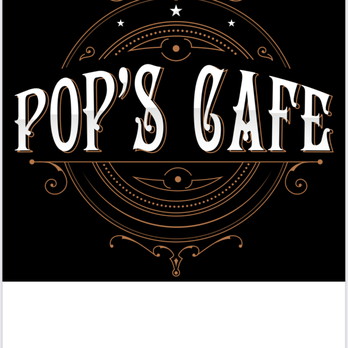 Pop's Cafe 256-410-4210
2920 County Road 214 Hillsboro, Alabama
Southern cooking at it's best. Unique dishes that you'd swear were prepared by your grandmother. One of the best examples of a Hole-in-the-wall cafes I've found so far.
Hours are Mon. 8-3 Tues. closed Wed. 7-3 Thurs. 8-3 Fri. 12-9 Sat 8-11 and Sun. 11-3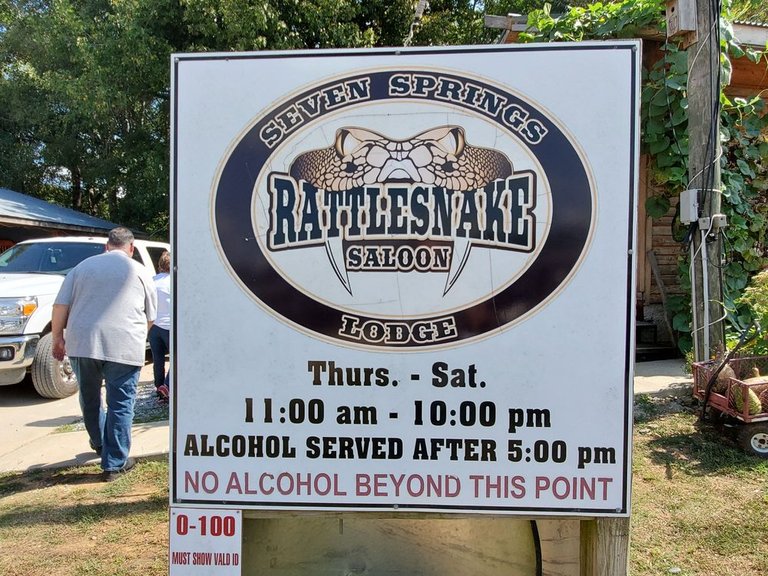 Rattlesnake Saloon 256-370-7220
1292 Mount Mills Road Tuscumbia, Alabama
What a unique experience and atmosphere. The fried pickles and mushrooms were AWESOME!!! Definitely put this place on your bucket list.
You pull into the parking lot and wait for the "taxi" to take you down the steep hill and across the creek to the Saloon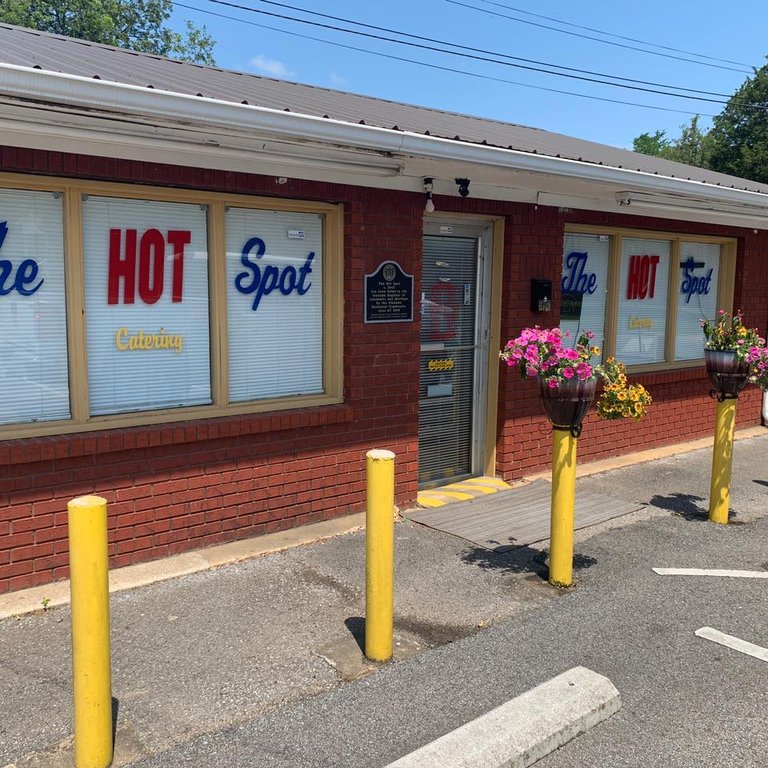 The Hot Spot 256-522-1228
2701 Byler Road Moulton, Alabama

Philly Cheese steak, chicken sandwiches, Italian beef, Chicago dog, slaw dog, pizza (pre-order)
Hours are 11-6 Wed, Thur, Fri.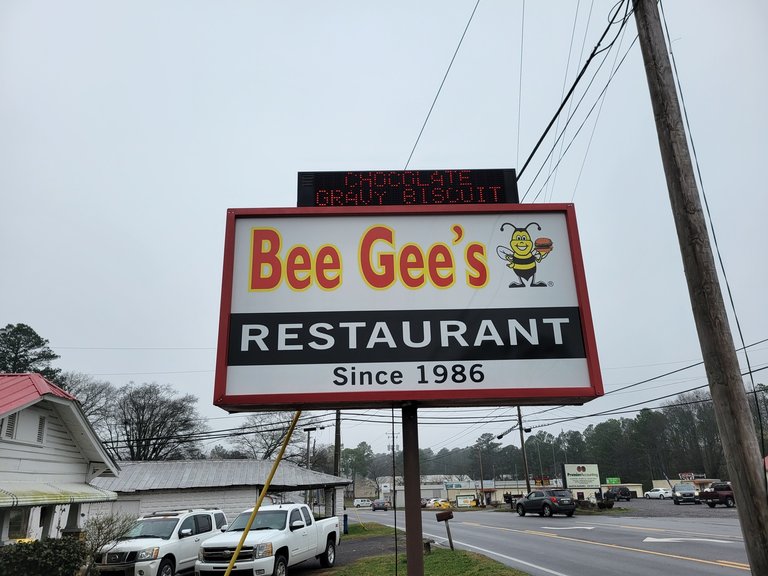 Bee Gee's Restaurant 256-878-9294
1105 Baltimore Ave. Albertville, Alabama
The chicken fingers are large, super tender with a crunchy breading, and served with Bee Gee's own chicken finger dipping sauce, a sweet and tangy mixture similar to Comeback sauce.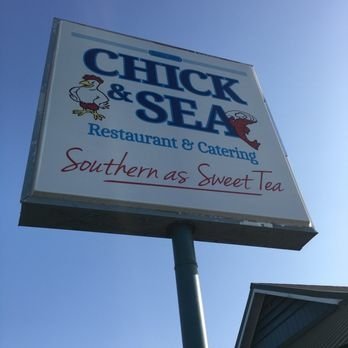 Chick and Sea Foods 251-943-8443
1127 McKenzie Foley, Alabama
In Foley, Alabama, this restaurant was recommended by locals, as the restaurant's pie was reminiscent of the local's mom's chocolate pie.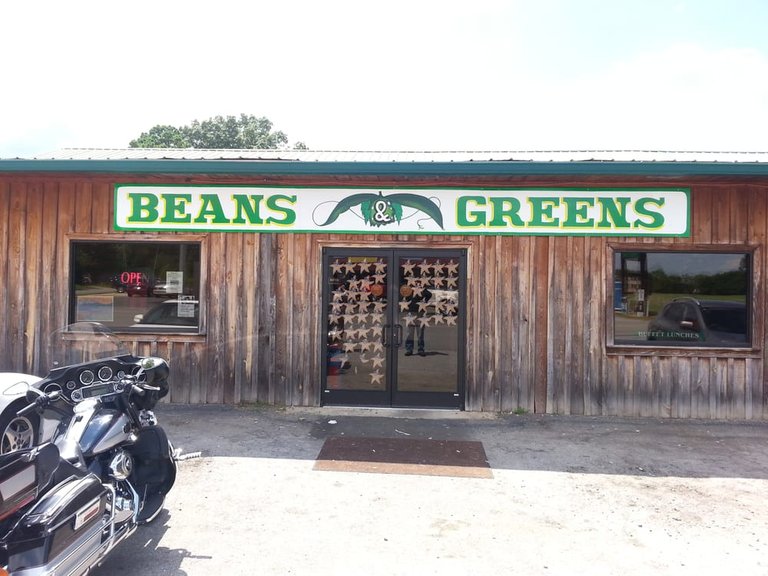 Beans and Greens 256-492-3267
10294 Centre Road Gadsden, Alabama
Food is ALWAYS good. Not much to look at but it makes up for the looks in the food it serves.
Wife and I go on Saturday afternoons, it is always busy.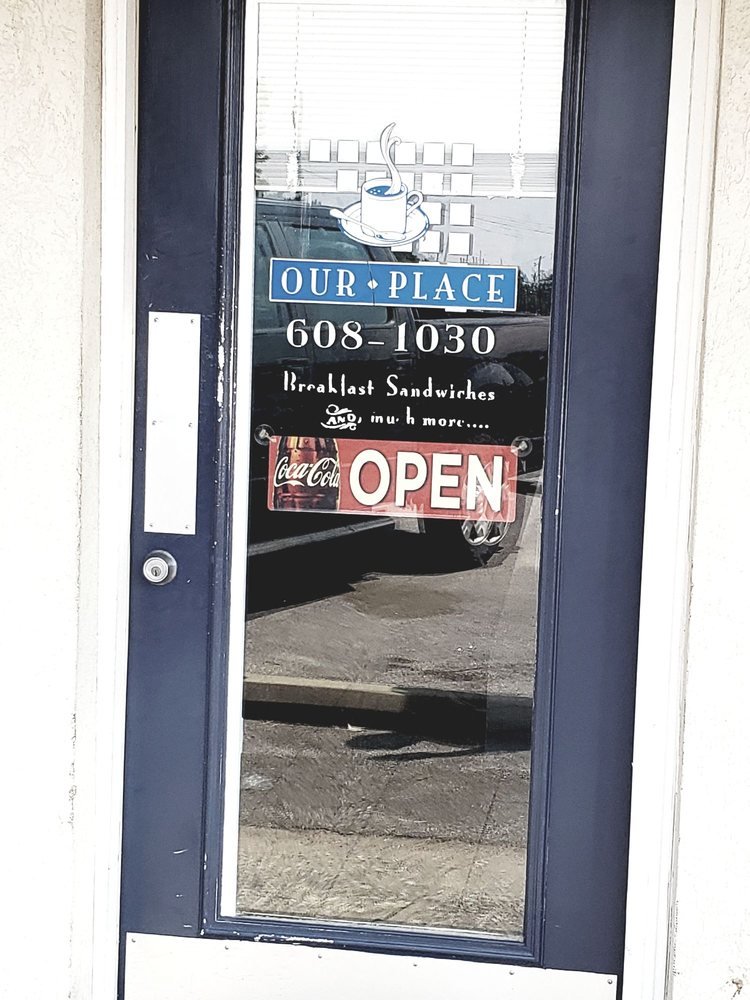 Our Place 205-608-1030
1218 Main Street Gardendale, Alabama
Tucked into the corner of a small shopping center that was bypassed by the main highway, this little sandwich shop is open for lunch Tuesday through Saturday. Open 7-2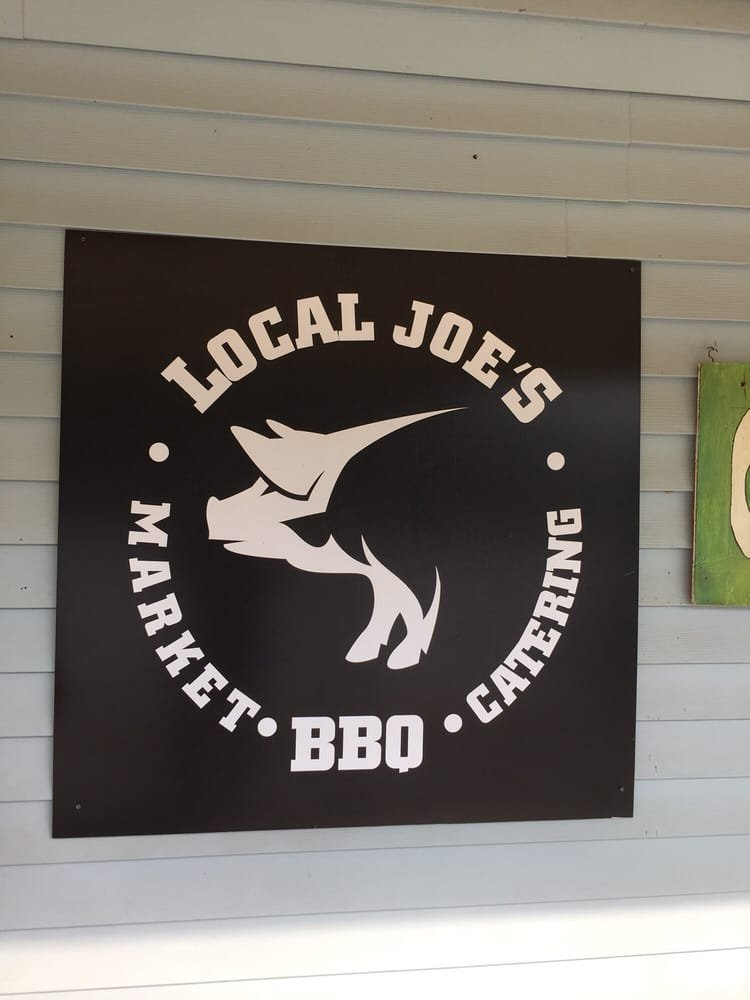 Local Joe's
1218 Main Street Gardendale, Alabama

"Great BBQ, fresh baked bread, desserts, local honey, "Great loaded baked potatoes, Great smoked turkey, potato salad, BBQ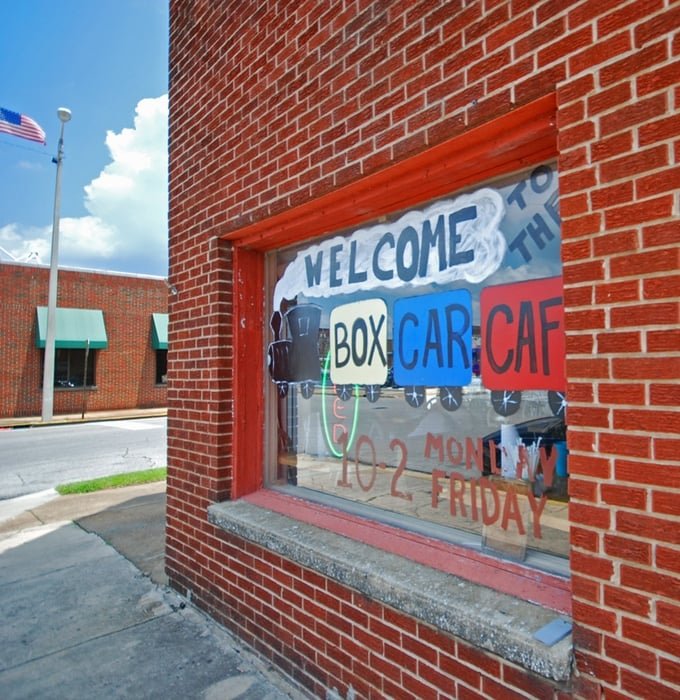 Box Car Cafe 256-381-7437
220 North Nashville Ave. Sheffield, Alabama
Best example of small town , local eating . Place is very nice , the ambiance is retro and delightful . The food is good . Breakfast is amazing . The omelets are delicious . The staff is cheerful and nice . What else we expect from a nice retro cafe . Good one !!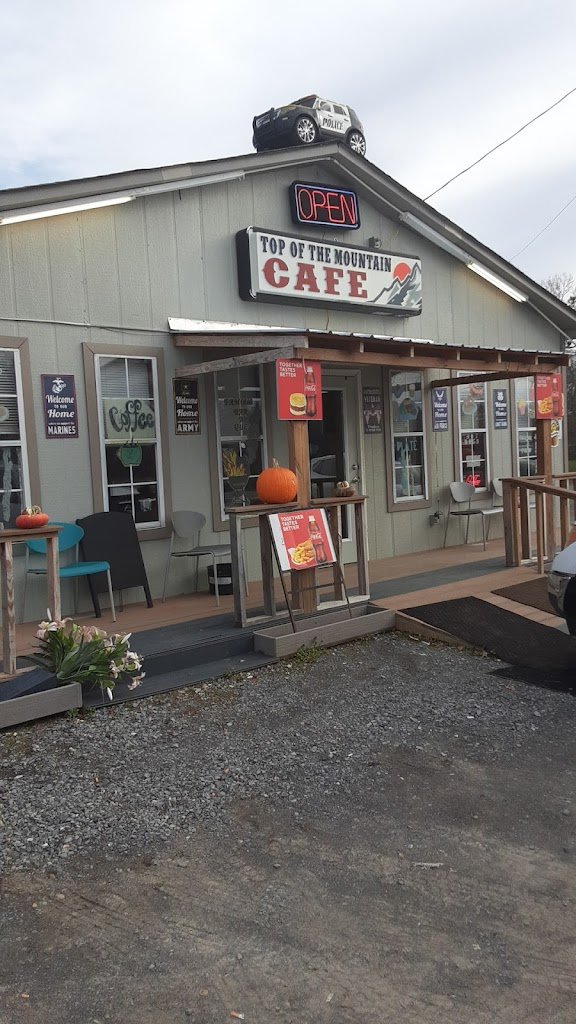 Top of the mountain Cafe 256-585-5060
16062 US 231 Union Grove, Alabama
Top of the mountain cafe. Is a good family oriented home town cafe. The food is what mama use to make. COME ON DOWN AND SEE US. ....WE'RE PROUD TO SERVE YOU!!!
Hours are 6am - 2 pm
7 days a week
Chef Troy's "Talk of the town" 205-489-1700
4815 County Rd. 63 Houston, Al.
Located in the Bankhead National Forest/ Houston, Alabama. Owner Troy Johnson is a writer and food critic for the food Network and the Iron Chef. Everything from a basic breakfast to some one of a kind dishes with a southern flare.
John's BBQ 256-974-8880
12403 Highway 157 Moulton, Alabama
On highway 157 Moulton, Alabama
Really great southern BBQ… we're talking pulled pork, hush puppies, ribs, turnip greens
and cornbread etc. You can call ahead and have it ready when you get there.
Caddo Cafeteria 256-974-5535
6091 County Rd. 434 Caddo, Alabama
Located in Caddo, Alabama is this out of the way place called the Caddo Cafeteria. It's buffet style and they offer homestyle dishes that will remind you of your grandmothers cooking. Everything from fried chicken, baked catfish, turnip greens, authentic cornbread, (my wife's favorite is the boiled cabbage) to homemade deserts. On county road 434 and don't blink or you'll miss it.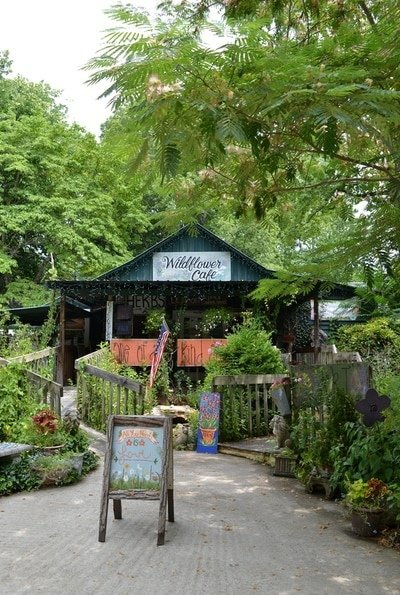 Wildflower Cafe 256-634-0066
6081 Al. highway 117 Mentone, Alabama
The wildflower Cafe is located in Mentone, Alabama on lookout mountain. Several festivals are planed throughout the Spring and Summer. It's always best to make reservations ahead of time because the place is usually busy. The menu is always changing and it's always really good. On a scale of 1-4 I'd put pricing at a 3. Nearby is Fort Payne, Al. The band Alabama got it's start there.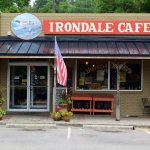 Irondale Cafe 205-956-5258
1906 1st Ave. North Irondale, Alabama
Featured in the movie Fried Green Tomatoes, this little gem can be found in the little town of Irondale Alabama. Typical southern food. Open for lunch till 2:00 then re-opens from 5-7 for supper. Put this on your bucket list if your traveling along Interstate 65 near Birmingham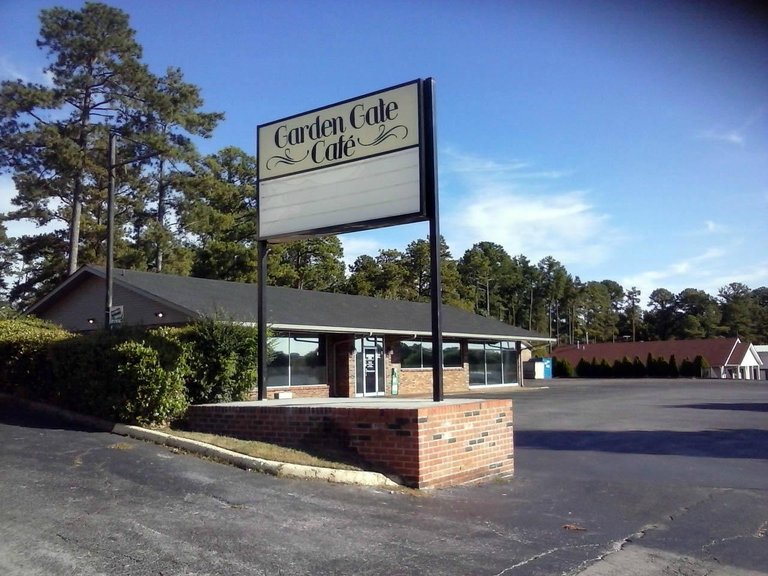 Garden Gate Cafe 256-349-2569
1917 Florence Blvd. Florence Alabama
I can't believe that after all this time I still haven't put up a post about the Garden Gate Cafe!
This little place was the inspiration for creating this group after all, and I guess after setting up the group and following all of you from different parts of the country I completely forgot to create a review for them..... anyway, as you can see from the pictures, they serve some really "down home"- stick to your ribs food. They made my wife and I feel at home while we were there and the staff treated us like they had know us for years. We even got the occasional "darlin" or "bless your heart" thrown at us.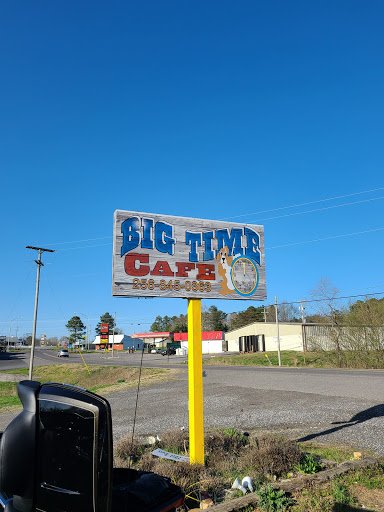 Big Time Cafe 256-845-0363
Highway and Dogtown Road Dogtown Alabama
Just south of Fort Payne Alabama off highway 89 is the "Big Time Cafe" We usually went there for breakfast when we were staying at the Bear Creek Cabins just down the road. Typical small cafe offerings like you'll see in most places like this but, that's not why you're here. Not far from here is Orbix glass where some world class glass blowers call home. If you call ahead you can attend a class where they will let you create a one-of-a-kind piece of artwork to take home.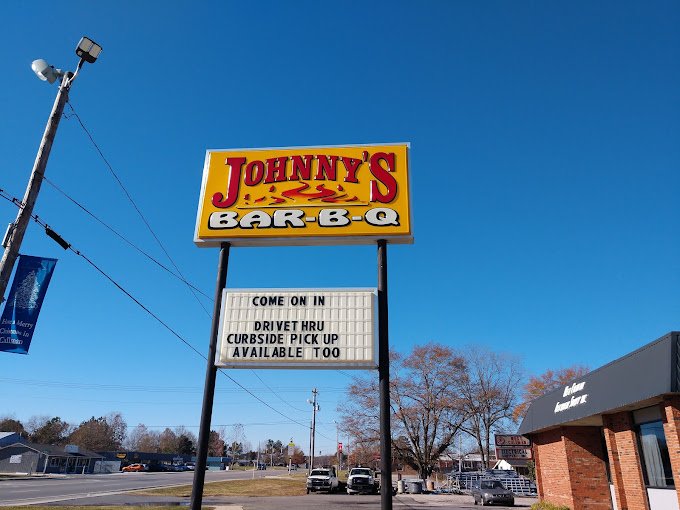 Johnny's BBQ 256-734-8539
1401 4th Street Cullman, Alabama
If you want a great local Bar-B-Q, you must try Johnny's. I've had BBQ from Co, TX, NC, SC and now AL. Hands down the best I've ever had, homemade BBQ sauce with a homemade white sauce. We also couldn't ask for better service if I could bc it was awesome. Busy as heck but was amazing after closing they still had patrions inside and never rushed them out. Great atmosphere on top of all that!!! 10/10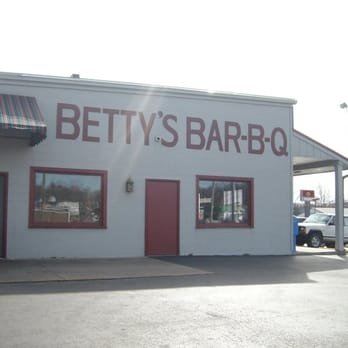 Betty's BBQ 256-237-1411
401 S Quintard Ave. Anniston, Alabama
Betty's Barbeque in Anniston AL is a great place for home cooking. And home cooking is hard to find these days.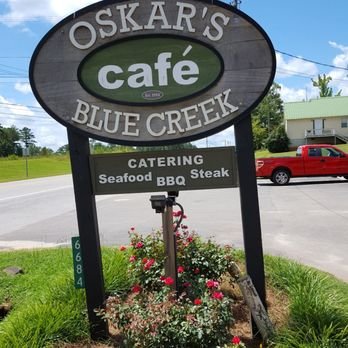 Oskar's Cafe 256-825-4827
6684 Highway 49 south Dadeville, Alabama
Established in 1993. Two brothers decided to open a restaurant together with their wives. Believe it or not we're all still married.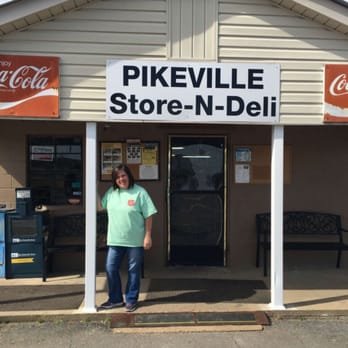 Pikeville Deli 256-594-3400
5182 County Road 21 Scottsboro, Alabama
These are great burgers. Truly great burgers. Worth whatever effort you make to get there before they close in the mid afternoon. Super friendly guys running the shop, the burgers took long enough that you know they're cooked to order.
Top Of The Mountain Cafe
Kelly
Wonderful little diner that is reminiscent of better days. Super friendly staff, scratch made meals at a good price.
Jennifer
I have quickly become a regular as my boss LOVES their breakfast. The staff is also the sweetest! Isabelle, Debbie, and Charlotte are amazing!
Tom
Fast, friendly, good food and a decent price. Never had a bad meal and enjoy the people. Try to stop in any time I drive by...
Chef Troy's
A very unassuming (cement block) place called Chef Troy's "Talk of the town" is located within the Bankhead National Forest in Houston Alabama. If driving from the North be sure to take the very scenic highway 33 out of Moulton.
This is information I found on Wikipedia about Troy Johnson
Troy Johnson (born August 13, 1973) is a writer, food critic, and television personality from San Diego. He has been on several Food Network shows as a panelist and a judge on Iron Chef America[2] and The Best Thing I Ever Ate. He is best known as a judge on the Food Network show Guy's Grocery Games since its inception in 2013[3] and Campus Eats on the Big Ten Network since 2016. He previously hosted Crave which was also on the Food Network, an award winning music show in San Diego called Fox Rox, and a San Diego Padres pregame show entitled Outta Left Field. Sorry... I can't tell you how he ended up in this tiny little town in Alabama. Oh, and be sure to check out the historic Houston County jail which is just across the road from Troy's.
John's BBQ
is located on highway 157 in Moulton, Alabama. If you're heading north on interstate 65 from Montgomery or Birmingham, Alabama, get off at Cullman on 157 till you reach Moulton. Enjoy some really great southern BBQ including pulled pork, fantastic ribs, BBQ chicken, hush puppies, corn bread, loaded baked potatoes, turnip greens and fried pickles. After you've had your fill, continue north on 157 and you can eventually make it all the way to Memphis, Tn. If you're not in a hurry be sure to stop by Muscle Shoals, Al for a visit a Fame recording studios where the likes of Aretha Franklin, Percy Sledge, Bob Seger, The Rolling Stones and the list goes on and on. Call ahead to schedule an appointment.
Caddo Cafe
As good as home cooked!
My brother and I were in the area and stopped at this Cafeteria because the parking lot was full and we just knew it had to be good. We were definitely not disappointed. You pick up your tray and silverware and go through the cafeteria line just like "old school". We each chose our favorites from the great variety of meats and vegetables. Everything was seasoned "just like Mama". Price was very reasonable. Will definitely go back.
Mike
Got to stop in Caddo Cafeteria for first time in two or three years. Job brought me to the area more often in the past, was a more frequent visitor. Very pleased to see nothing has changed. Nell, Tommy & staff still serve up excellent home cooking with portion sizes to leave you full. Due to the cafeteria set up often quicker than fast food. Price is very reasonable. Great option for lunch.
Wildflower Cafe
Delicious food!
Staff was super friendly and provided great service. We had a reservation and were seated within a few minutes of our reservation. At 5:00 on a Saturday night they were packed. Mostly locals. The food was delicious! The dinnerware is a Chinet style paper plate- not cheap stuff. I'm glad we didn't avoid this restaurant because of a few negative reviews. It was fun!
Irondale Cafe
Bring your appetite.
Good southern food. My eyes were bigger than my stomach, my husband practically had to roll me out. This is the inspiration of the Whistle Stop Cafe in the book/movie Fried Green Tomatoes. The restaurant is very popular, expect a crowd. Food is served cafeteria style. Recommend!
David
Great food worth the price!
My wife and I ate lunch there this week. I had the fried catfish-huge serving, fried okra and turnips-the menu said collards but it was turnip greens (I was glad) and we split a serving of fried tomatoes. Wifey had catfish and turnips. Both came with delicious hushpuppies. Every bite of everything was delicious! We shared a piece of buttermilk pie because I told her she could choose the pie. I wish I had chosen the coconut creme pie. The cashier/manager from Greystone and the owner were both so nice and the manager and I talked quite a bit about old days growing up in Montgomery. The meals were so good we ordered take outs for our adult children's dinner. You can go to a fast food joint and easily spend $30.00-$40.00 for unhealthy food. If you haven't eaten at the Irondale Cafe, you should. Money very well spent!
Garden Gate Cafe
Garden Gate Cafe
We made a road trip from Tennessee to Alabama to pick up a door for our patio and found this place. And WOW. Best fried chicken I think I've ever had on my life! It was ridiculously tasty, as were the sides. I keep looking for excuses to go back to Florence just so I can have some more of that chicken!
Michelle
Amazing food. Fantastic service. 1st time but will be back for sure. Loved it!!
Lauren
Garden Gate just makes me happy. It's good, southern comfort food. You simply can't beat it.
Carolyn
My husband and I, two seniors. Just had a surprisingly good meal at the Garden Gate. I ordered the catfish, the Friday special; my husband ordered the roast pork. We ordered the cucumber salad which was unusual but very, very good. The mustard greens, hush puppies, fried okra, creamed (mashed, to us) potatoes, and green beans were all good. The service was prompt and friendly, the portions were just right to generous -- we couldn't finish all of our food. The restaurant is locally authentic and we recommend it to everyone who finds themselves hungry in Florence Alabama.
Big Time Cafe
Brian
Gr8 food! Flavorful, fresh, vine-ripened tomatoes, handmade huge burger patties, okra, squash and everything was seasoned nicely. Ive had expensive prime burgers that were none better than here. Best. Burger. Ever! Server Whitney was phenomenal; fun but professional, pleasant and checked back at perfect intervals. The prices are crazy low!
Captain Dave's Cafe
Pam
Came here for a Christmas dinner. Wasn't expecting much to be honest but was very pleasantly surprised! I had the tacos, 1 steak, 2 pork belly. They were delicious!!! My husband had the Hamburger steak, also delicious! A few people had the ribeyes or sirloin, everyone was impressed. Will definitely be back!
Jeannie Cooper
June 2022
Hamburger was fantastic!! Chicken fingers were great as well!!
Betty's BBQ
Crystal
Betty's Barbeque in Anniston AL is a great place for home cooking. And home cooking is hard to find these days.
Jeannie Cooper
June 2022
Hamburger was fantastic!! Chicken fingers were great as well!!
Oskar's Cafe
Marc
Down home, lake-style relaxed, Oskar's is made for folks seeking good comfort food. The wait staff are as friendly and attentive as you'll find anywhere. They were quick with the service, asking how's everything, and made sure to offer a to go tea refill.
The perfectly fried catfish, pork bbq, and hush puppies most definitely lived up to all the well deserved praise, but all came in a close second to the ridiculously decadent chocolate fritters we were forced to try for dessert!
We'll definitely be back.
Pikeville Cafe
We are a unique family owned restaurant located off the beaten path in Scottsboro, Alabama. We offer awesome burgers, home made desserts and other great menu items. All of our items are made to order. We are located in an old store that was originally built in 1907. Come visit and take a step back in time and enjoy great food in a great atmosphere.
Shawn
Fantastic, Yummy, Delicious, Mouthwatering, Flavorful, nosh-worthy...
If you haven't already figured it out, I love this burger. The restaurant itself is in the middle of nowhere, but so worth the drive! The food is always fresh and flavorful, but do not expect your burger to be ready at the very moment you order it. Totally worth the wait however!
*Tip: Call ahead, if you are on your lunch break. This will save you at least 10-15 min.
Now, you have to get the burger, all the way, Chilli Fries, and that Moon Pie Banana Pudding.... This is heaven in a basket! If you are in the neighborhood, or even out of state... it is worth the drive! I can't stress this enough!
Pop's Cafe
T.J. Morgan
I can't say enough good things about this place. A friend of mine suggested going to Pop's for lunch and man, oh man was he right. I had breaded fried pork chops, mashed potatoes, squash casserole, a dinner roll, fried strawberry pie and sweet tea. Everything was delicious and spot on. Our waitress was as nice as she could be. My wife asked if by chance they had any horseradish to go with the pork chops and to my amazement they had some! If you're ever in Lawrence County Alabama you must eat here.
The Rattlesnake Saloon
Beth
Located at the Seven Springs Lodge. When you arrive, it appears you're visiting a campground. Have no fear, you're in the right place. Park and wait for the "taxi" .
This place is all about the atmosphere. The restaurant itself is in a cave with live music. It's a unique experience and definitely worth a visit.
There's nothing "special" about the food, but decent otherwise.
*They don't serve alcohol until 5pm.
Bee Gee's
Matt
My dining partner, typically a fussy eater with lots of complaints, declared them "uhhh-mazing" about halfway through her meal, and then said they were the best she's ever eaten a short while later.
Bee Gee's also has burgers, sandwiches, and dinner plates. Are they good? I don't know, I've only ever gotten the chicken fingers and I probably only ever will.
Chick and Sea Foods
Robert
Home cooking at it's best. Friendly staff and great food. I had a breakfast platter and was impressed. This place is worth a little drive away from the beach places.
Debbie
Really good food and the friendliest owners and servers. Good selection from menu or the lunch specials which change daily. Will be back
Beans and greens
Susan
We eat here about 1 time a month. We would eat there more often if it was closer. Good food and a large variety of meats and vegetables. Deserts are excellent Service is excellent.
Jennifer
Good buffet with homemade food! Great comfort food! And they cater also, which is great for gatherings!
Our Place Cafe
Matt
You order and pay at the counter, then serve yourself a drink and take a seat. I had the Evelyn Special. It's a sandwich of flavorful roast beef on a toasted hoagie roll with grilled onions, Swiss cheese, and ranch dressing. While overstuffed sandwiches might be the norm, this one is just big enough to top you off and get you on your way, without causing a 2P.M. food coma. Several sides are offered, but I went with the basic fries. They were hot and crispy and went well with the squeeze bottle of ketchup on the table. They'll bring you the food when it's ready.
Local Joe's Trading Post
Lisa
Great smoked turkey! I like pretty much everything I've ever gotten here. The baked beans are also the best ones I've had besides my mama's. Very flavorful and goes well with the red sauce. My favorite BBQ sauce around. Great loaded baked potatoes, potato salad and the pimento cheese is the best! BBQ chicken flatbread pizza is also very good! Pies, cakes and cookies are good way to top off the meal but I usually have to wait a little while to enjoy due to being overstuffed!
Also, great catering. Had it for my daughter's wedding and everything was wonderful! Not just BBQ but anything and everything you could want!
Box Car Cafe
What great food and wonderful people. Through my own fault I didn't notice the cash only signs and when I handed them my debit card after finishing a big bfast, they only take cash or checks. Looking shocked I didn't know what I was going to do but the waitress told me about the ATM down the road but I needed my usual ATM CU so I offered to give her my license phone number name or whatever but she said no I trust you, wow and I am here to say I left and came back with tears because… there are good people still. She trusted me and she didn't have to. So with that being said the food was great and prices great so please check them out if close, I will certainly be back.. .with cash lol