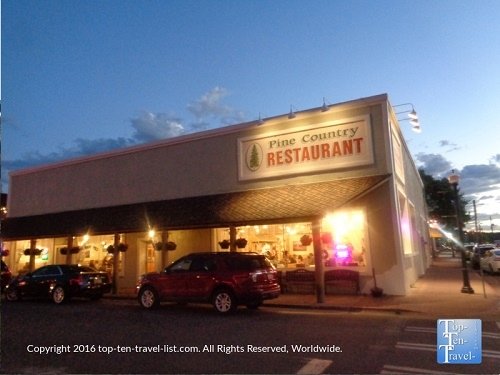 Pine Country Cafe 928-635-9718
107 N Grand Canyon Road, Williams, Arizona
The very definition of "comfort food". Great breakfast… you can't go wrong here.
Super yummy home style food, super filling, and super nice staff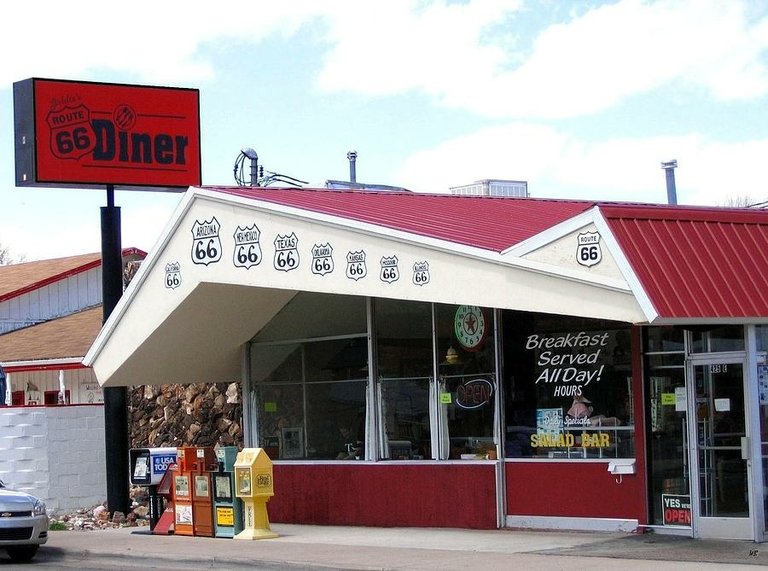 Goldies Route 66 Diner 928-635-4466
425 East Route 66 Williams, Az.
Doors opened in 1962 as the original Denny's here in Williams, Az. It wasn't until the mid 80's when the Denny's moved up on the hill. And a local family took over and was then turned into the Hoffman house. Hoffman's held the business till the mid 90's. Till new owners took over and re-named the business Goldie's Rt. 66 Diner. Everything is still in its original state as it was back in 1962. Goldie's is the OLDEST diner here in William's, Az. And has served many generations of locals and tourist alike.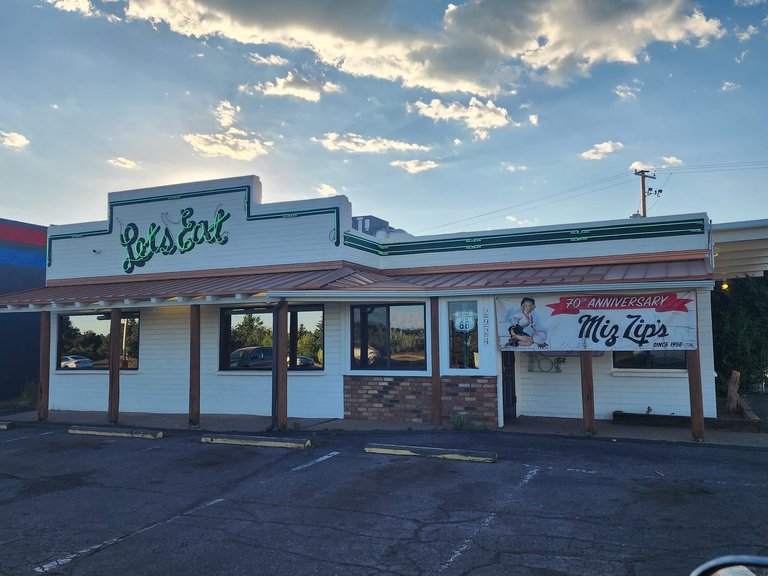 Miz Zips 928-526-0104
2924 E Rt 66 Flafstaff, Arizona
On the east side of Flagstaff are a handful of businesses that hold close the spirit and charms of Route 66. One of them is Miz Zip's Route 66 Café. The Zip's has been a Flagstaff staple since the 1950s, and nostalgia — along with the signature pies — has helped bring people back.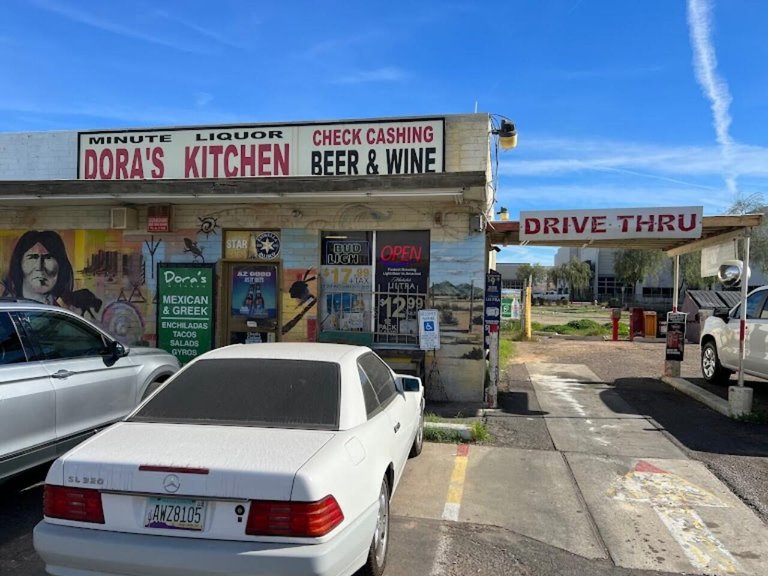 Dora's Kitchen 602-253-4074
2355 south 16th St. Phoenix, Arizona

Kinda like a Mexican Circle K with an authentic Mexican cafe in the back.
They serve both Mexican and Greek Food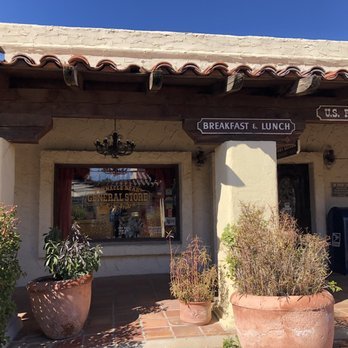 Pinnacle Peak General Store 480-991-1822
8711 Pinnacle Peak Road Scottsdale, Arizona

The food never disappoints and it's a really cool atmosphere. There are antiques everywhere, even hanging from the ceiling. When the weather is not stifling, I recommend asking for outdoor seating in the courtyard. It's like you're transported to another country, truly beautiful.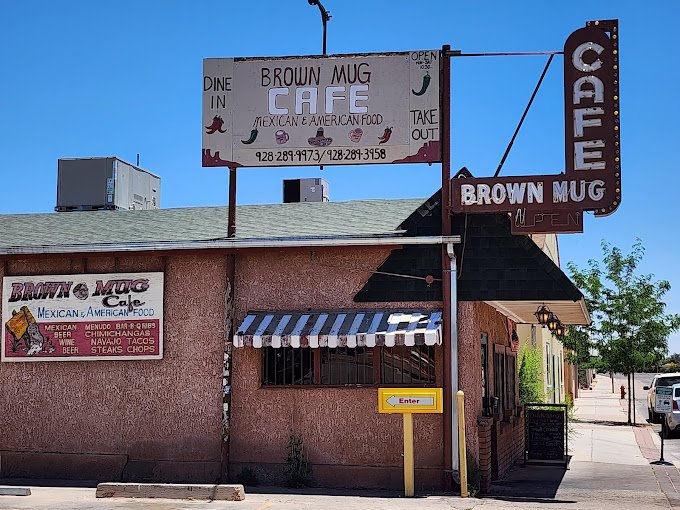 The Brown Mug 928-289-9973
308 east 2nd Street Winslow, Arizona

The Brown Mug Cafe in Winslow is a throwback to days of old.
This roadside Cafe sprang up like so many others on the side of Hwy66. Good food, served quickly with reasonable prices, and few frills.
With the modern Interstate siphoning most traffic away from downtown Winslow, the Brown Mug has survived by becoming a locals favorite.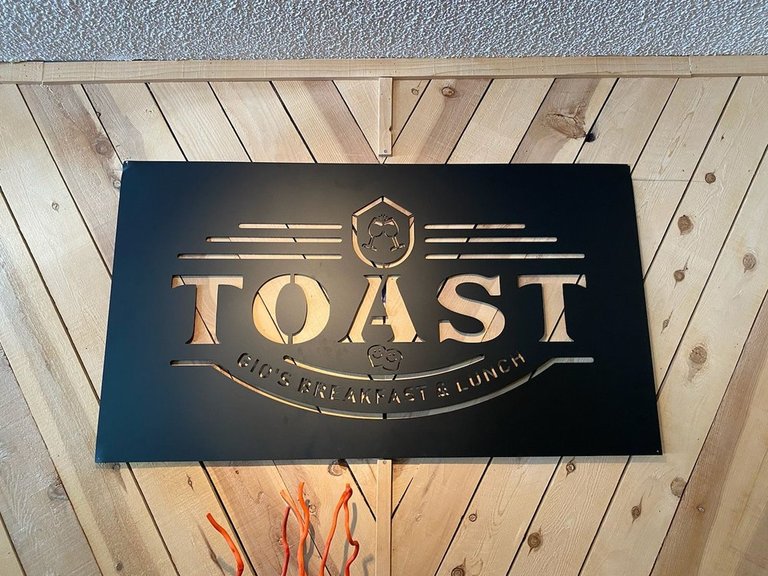 Toast Gio's 480-671-3955
1422 Broadway Ave. Apache Junction, Arizona
Mimosas made with fresh squeezed orange juice, house-made bloody mary mix with a full bar and Amazing coffee drinks. Our Maple-Agave Syrup is served warm & fresh in this chic and upbeat atmosphere. Don't forget we don't just do Brunch we offer Full Service Catering that includes, Mexican, American, Italian, and Asian among other cuisines.
Breakfast and lunch only
hours are 6:30- 2 7 days a week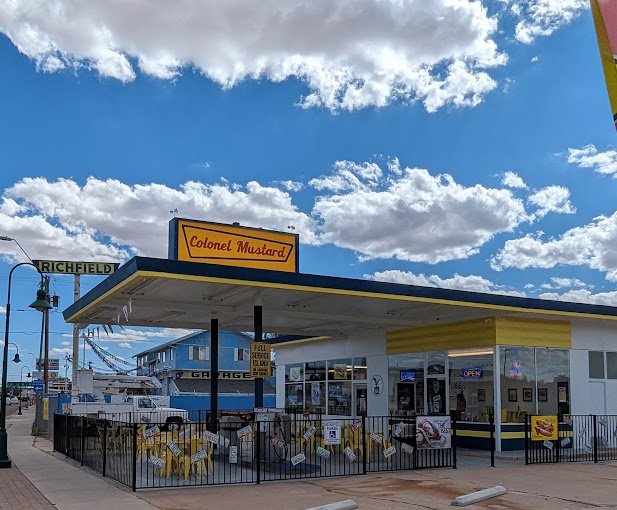 Colonel Mustard Hot Dogs 928-241-1034
459 Navajo Blvd. Holbrook, Arizona
In a re-invented gas station is Colonel Mustard… Chicago Style Hot Dogs, Italian Beef, Greek Gyros, Subs and Sorbetto Ice served at a restored 1958 Richfield Service Station on Historic Route 66.
459 Navajo Blvd. Holbrook, Arizona 928-241-1034
hours are 10:30-7 closed Sunday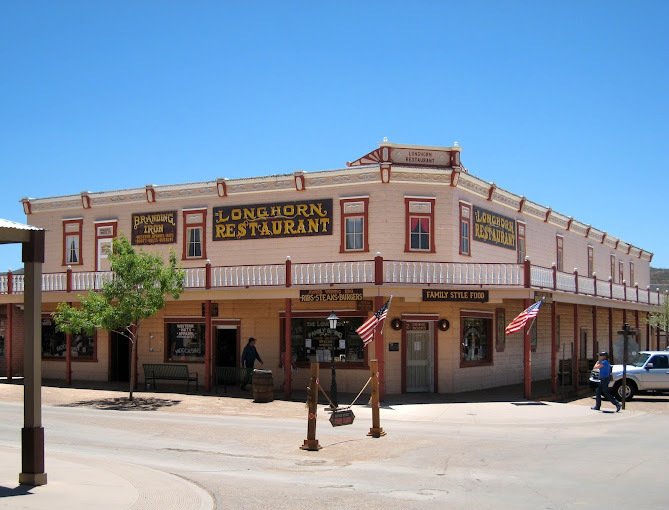 The Longhorn Restaurant 520-457-3405
501 Allen Street Tombstone, Arizona

The Longhorn Restaurant is the oldest continually operated restaurant in Tombstone. An historical building, The Longhorn Restaurant is located in what used to be the Bucket of Blood Saloon, the Holiday Water Company, and the Owl Cafe and Hotel. One of the restaurant's most famous moments came at the end of 1881 when Virgil Earp was shot during an assassination attempt and when the building operated as the Owl Cafe and Hotel. Earp was walking down the street when shots were fired from a building under construction, which just happened to be this one. Earp managed to survive and the restaurant already gained a degree of notoriety.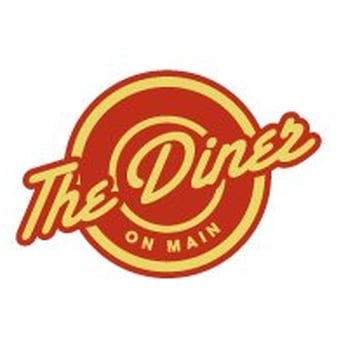 The Diner On Main 928-633-2131
103 Main Street Bagdad, Arizona

The Diner in Bagdad AZ. Great food good service. Chili burger and chili dog are especially good. It's a biker destination. Not hard to find it's the only place In town.
Pine Country Cafe
Situated in Williams Arizona, gateway to the Grand Canyon.
Hidden Gem, don't miss it, you'll be sorry!
Menu offered variety, service was great (prompt and friendly) and Food was awesome. Started with pine special nachos, patty melt and open face pot roast, and ended with grasshopper mint pie!! Could not have been any better!!!!
Jane
Pie!
Dined here twice as couldn't resist the Pie! Food good value and a great selection, staff attentive and polite.
Goldies Route 66 Cafe
Greg
Good food, easy location, good parking, great attitude and hwy 66 charm. I've enjoyed the bacon cheeseburger and fries, Jeff's big breakfast, chorizo and eggs with hash browns, chicken fried steak and eggs, all very good.
Kris
I was always told that if I got to Route 66 I had to eat at a diner! Goldies delivered! Great food and great service. Loved the area and extremely happy I finally got to stroll down this piece of history!
Miz Zips
Heather
Everything you would expect from a diner
We came here for breakfast as a group of 5 and were able to be seated right away. The diner is cute and offers a wide variety of breakfast foods. The hash was good, and the cinnamon churro waffle was lovely! The food was brought out right away. Be aware that it's cash-only!
Dora's Kitchen
Fred
Great authentic Mexican food cooked while you wait and fresh.
I've had their burritos. I ordered 2, thinking it usually takes 2 of Taco Bell's to fill me. Big mistake, Dora's are huge.
Today, I had 2 soft shell tacos, and they filled me up.
Great little Cafe in downtown Phoenix.
Pinnacle Peak General Store
Sabrina
Restaurant locked inside the general store; rustic look and homey.
Food; Got the Hot Cake Special, and it was delicious! The eggs cooked to order, and bacon nice and crisp.
Service; Very friendly, and coffee always refilled. Can't wait to go back!
The Brown Mug
Deb
My three fish tacos came with large chunks of crispy fried fish and loaded with lettuce and crema. Check all three daily specials boards because each one listed different specials. My husband enjoyed the tacos plus cheese enchilada special along with a couple of Pacificas. Nothing fancy, just what you expect from a local favorite.
The Diner On Main
Sheena
Not only is the food great, the staff are absolutely wonderful. Big portions, they don't have an issue with custom orders, and it all tastes great. I eat here often, the only issue I have is they aren't always open for dinner lol but seriously, I highly suggest it!
HH
I eat here every time I am in town. Great burgers and curly fries. Big portions, they don't skimp. Milkshakes are to die for.
The Greek Wraps

Charles M.
Peoria, AZ
9/22/2022
That's what I call Dang Good Food !
I was impressed by just the incredible
Wonderful Smell when we walked in.
Go now, you will Love their Food!
Deni
9/24/2022
Found the perfect gyro!!
Gyro Wraps was recommended to me by a co-worker and Gyro Wrap did not disappoint. Gyro Wrap is family owned and operated business and they are serving up some of the best Greek food in Arizona, hands down.
Toast Gio's
Toast has been a delight to visit since going their first week opened. I've enjoyed breakfast the last couple of years, but had the pleasure of trying lunch for the first time & loved the burger! Don't sleep on lunch at this brunch spot.
Carly, Jamie, Blanca, and all the staff make amazing food become a great dining experience! They are so friendly, remember my order, and suggest options when I'm feeling adventurous! Love having a quick chat while I enjoy the quant, festively decorated dining room or bar seating.