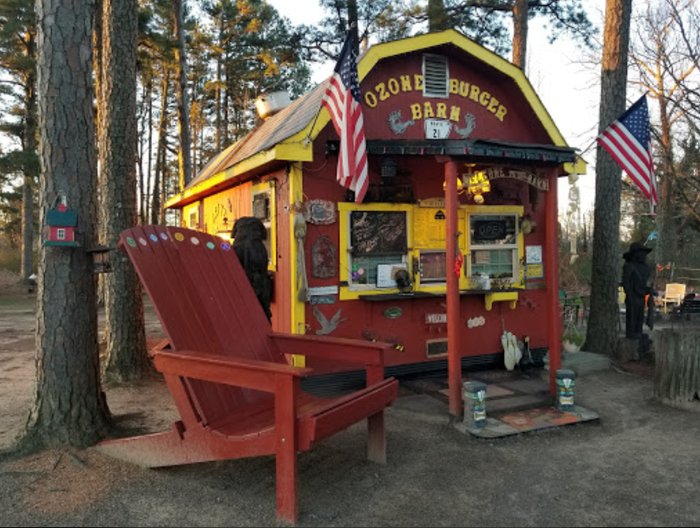 Ozone Burger Barn 479-292-1392
Located on highway 21 outside of Clarksville in the little town of Ozone Arkansas population 92. Really good burgers, fries, fish, cole slaw, shakes etc.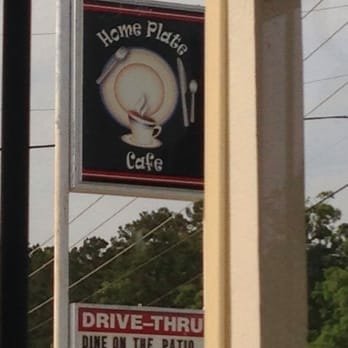 Home Plate Cafe 501-984-6969
5110 N Hwy 7 Hot Springs Village, Arkansas
Just outside Hot Springs Village is a terrific place to get breakfast, lunch, or dinner. Check their website for hours and menu items…. you can't go wrong here.
www.homeplatecafeandbakery.com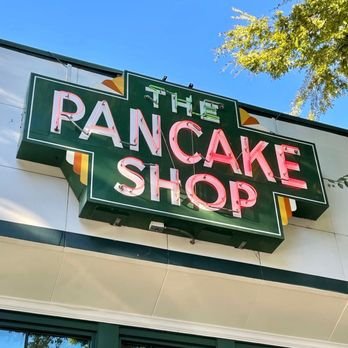 The Pancake Shop 501-624-5720
239 Central Ave. Hot Springs Arkansas
The Pancake Shop is your best choice for breakfast when staying in Hot Springs and everything is other-worldly including their enormous pancakes. Expect it to be crowded and maybe even a line to get in. They've been in business since 1940 and they know what they're doing.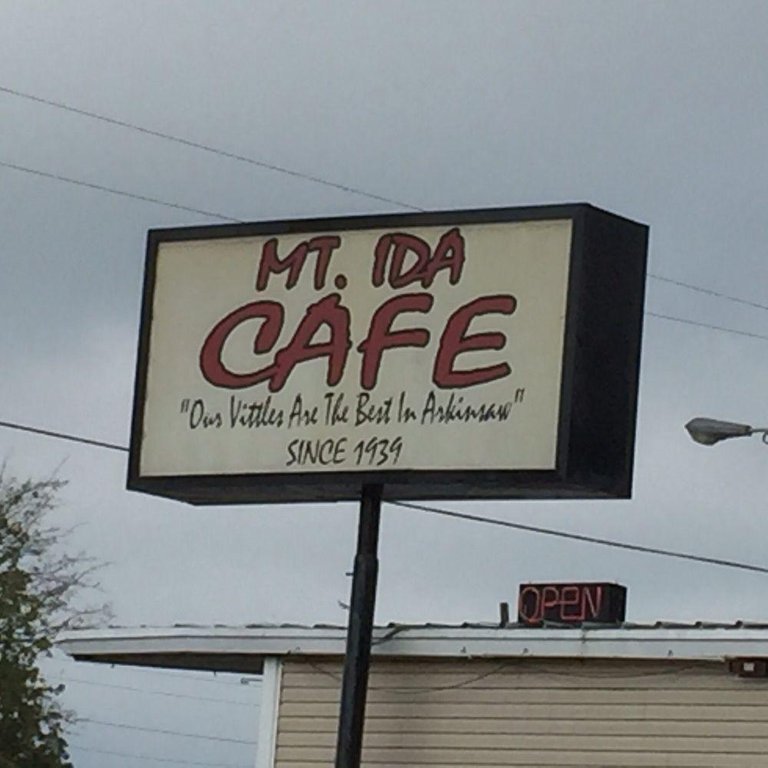 Mt. Ida Cafe 870-867-2283
978 US Highway 270 Mt. Ida, Arkansas
Steaks, pork chops, catfish, meatloaf, salads, chicken strips, brisket.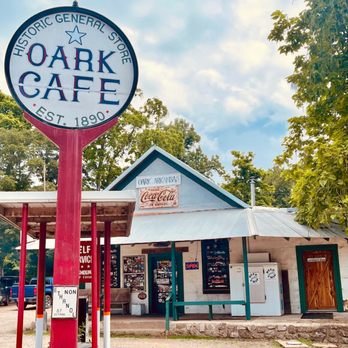 Oark Cafe and General Store 479-292-3351
117 Country Road 5241 Oark, Arkansas
Oark General Store and Cafe , Oark, Arkansas. If you are going to hit the Pig Trail in AR you have to check out this great little cafe where the burgers and fries are delicious. Save room for pie, check out the display window and pick your favorite for a slice and a la mode if you like, they are fantastic. hours are 10-4
(closed Tuesdays)
The Rusty Cup 870-269-6122
106 West Main St. Mountain View,Arkansas
We are regulars at the Rusty Cup. The food is consistently very good. The decor is well done and cosy.. The crew is very friendly and attentive. We can't say enough good things about this, one of our favorite restaurants in Mountain View!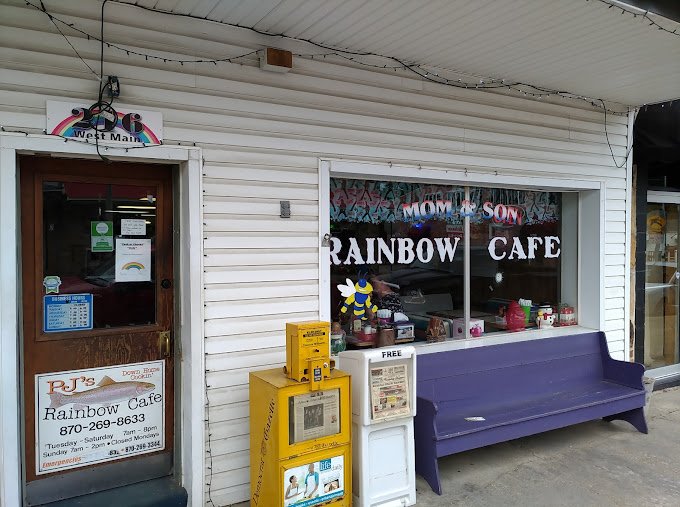 P.J.'s Rainbow Cafe 870-269-8633
216 West Main St. Mountain View,Arkansas
Down Home Southern cooking. Hand-breaded Chicken Fried Steaks and Hand-breaded Chicken Fried Chickens, Good Hamburgers and Cheese burgers (real hamburger patties used) Daily Specials and Homemade soups and Homemade Pies!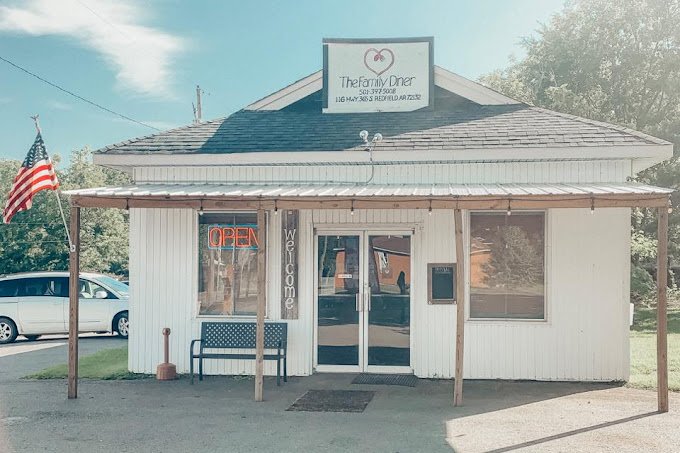 Family Diner 501-397-5008
116 south highway 365 Redfield, Arkansas
Make The Family Diner your new go-to restaurant in Redfield, AR. This American-style restaurant has been satisfying lunch and dinner cravings for over seven years. From gravy-smothered hamburger steak to deliciously seasoned catfish fillets, you'll always get your fill at this diner.
Tom
Ozone Burger Barn
This place is legit. Looks like an unassuming red barn shaped storage shed in the middle of nowhere, but don't let looks fool you... definitely worth going out of your way for. The owners are really nice and helpful. They hand cut fries and leave the skins on. Try the burger with pepperjack cheese, jalapenos, and chipotle mayo.
Home PLate Cafe
Jeff
What a great experience! This cozy little place has all kinds of home-style cooking with delicious flavors and fast, friendly service. We started off with a 3-choices appetizer, settling on fried zucchini, cheese sticks, and fried pickles, but easily could have done fried green tomatoes or mushrooms. Tough decisions had to be made. I had an open-faced roast beef sandwich with mashed potatoes, black-eyed peas and greens. It was all fantastic! Still, I envied the other meals my family ordered, with some good looking sandwiches, soup, and fries. We didn't get any dessert, but I got a nice treat at the end when the bill arrived. This meal was cheaper than any with all of us eating out in a long time. We'll definitely be back, and we don't even live here!This is a paragraph. You can write your own content here, and fill in the blanks. What's your story and where do you go from here?
Mt. Ida Cafe
Jeff
Great Small Town Cafe
Interesting restaurant, clean, very good service, good coffee, excellent food. I ordered the Western omelet with sausage instead of ham and it was one of the better omelets that I've ever had. My wife ordered a sausage sandwich and she enjoyed it. We will definitely return.
Oark Cafe and General Store
John
This is the most amazing little store. You must stop in if you are in the area. I spent 5 days at Wolf Pen Recreation Area and came here 3 times. The pies are awesome, burgers are great, reasonably priced and the customer service is impeccable. Highly recommend.
Howard
All I can say is WOW. Menu is super simple yet the options are plentiful. Mostly it's selecting from a variety of 1/2 pound burgers with various toppings. They make the BEST homemade onion rings. Do not skip this step. Order the onion rings.

The Rusty Cup
Amy

This new place is fabulous! Very cute inside, though I got a to-go order. The order was faster than expected and flawless.
The reuben is the best in town- second only to the Guion General Store, but barely.
The Asian Chicken Salad- thank you! We need more healthy, unique alternatives and this is perfect! Flavorful, light, but filling. I love it! The homemade dressing really makes it.
The side slaw was great- not over mayonnaised like most.
The Family Diner
Excellent local small town restaurant. We had the catfish lunch special, that was excellent and value priced. My kids enjoyed their burgers and grilled cheese. The pies are homemade, and the chocolate was excellent. (Didn't have room to try the other 8 flavors, but am sure they are good as well).