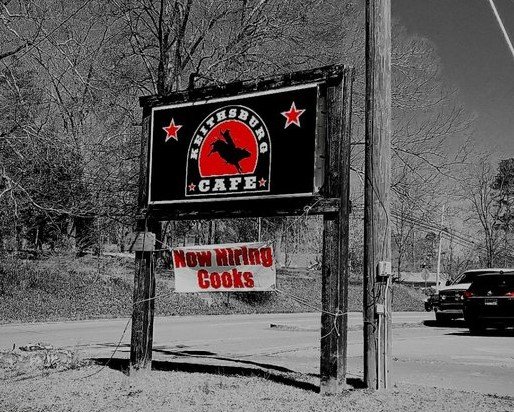 Keithsburg Cafe 770-479-0405
2452 Ball Ground Highway Canton Georgia
A cowboy cafe in the heart of Canton- that loves their local customers. This quaint cafe offers up only breakfast and lunch options but it well worth meals they do offer.
Hours are 6am - 2 pm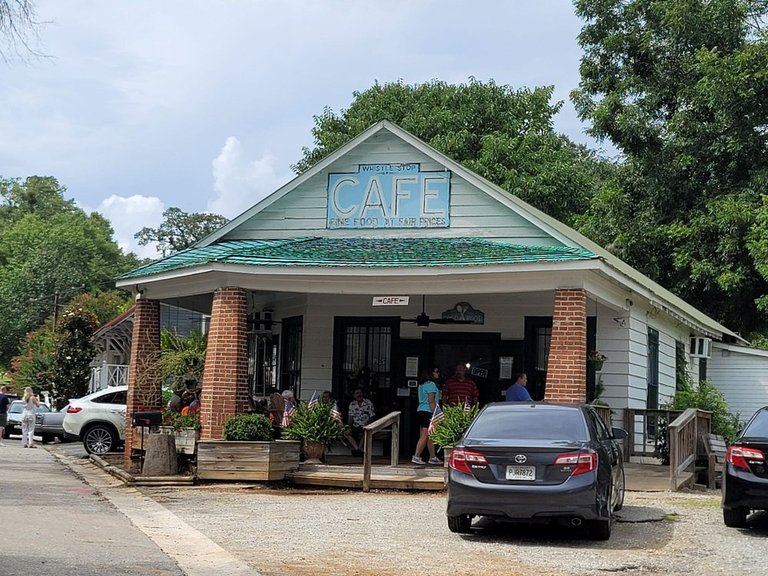 The Whistle Stop Cafe 478-992-8886
423 McCrakin Street Juliete, Georgia
The Whistle Stop Cafe is a restaurant located in Juliette, Georgia, famous for being the filming location of the movie Fried Green Tomatoes. The restaurant was set up as the iconic café in the movie and remained open after the filming was done.3 The main street of Juliette resembles the movie set, making it feel like walking around in a real-life Whistle Stop, Alabama.2 The restaurant serves classic southern dishes and Fried Green Tomatoes every day.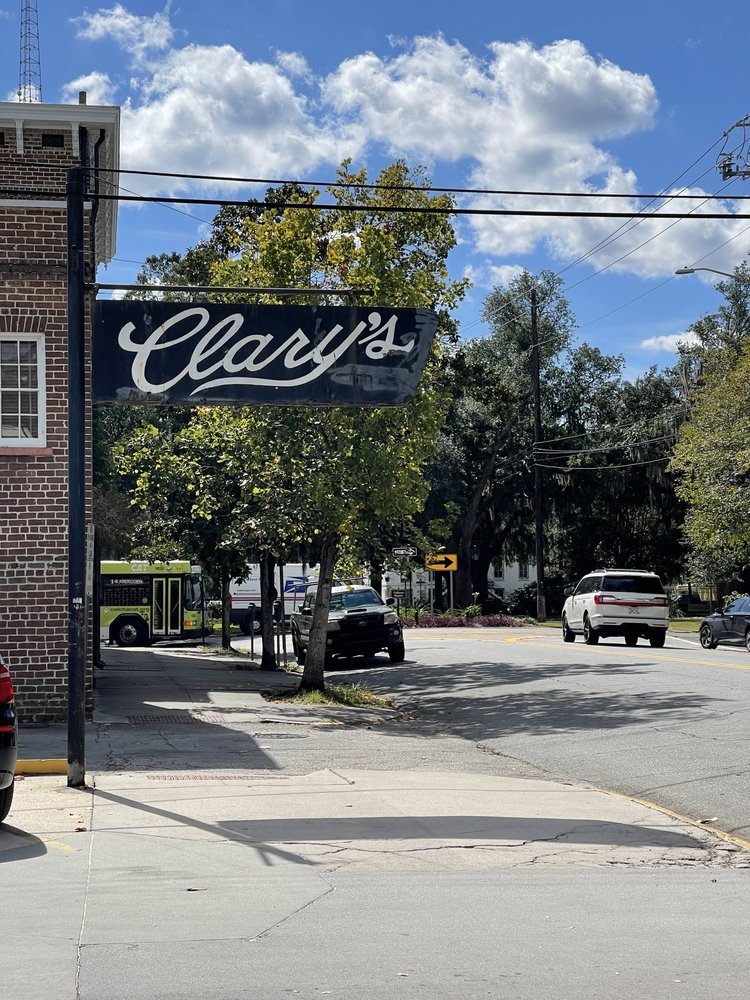 Clary's Cafe 912-233-0402
404 Abercorn Street Savannah, Georgia
Clary's Cafe is a restaurant in Savannah, Georgia, United States. Established at 404 Abercorn Street in 1903, originally as a drug store, its popularity increased markedly after its appearance in both John Berendt's Midnight in the Garden of Good and Evil 1994 novel and Clint Eastwood's 1997 adaptation.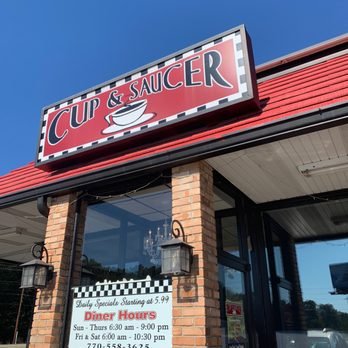 Cup and Saucer 770-558-3625
4408 Lawrenceville Road Loganville, Georgia
Loganville's first diner...Cup and Saucer Diner is a gathering place for good food and good friends.
We offer breakfast anytime and are proud of our award winning food and service. Are you a new visitor? Please let us know!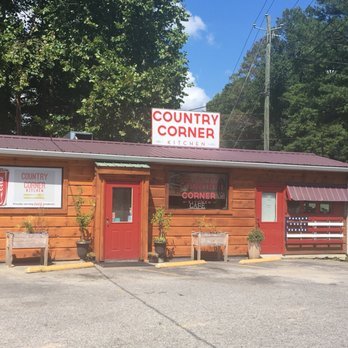 The Country Corner Kitchen 706-276-7077
2020 Old Highway 5 Ellijay, Georgia
At The Country Corner Kitchen specialize in making everyone feel welcomed and at home We love to put a smile as well as a great tasting dish on the table prepared specially for you! Hope we live up to it everyday and every visit !
Dolly's Farmhouse 770-575-1104
4971 Austell Road Austell, Georgia
Just outside Atlanta, Georgia is Dolly's Farmhouse Café.
Dolly's Farmhouse has been serving the local community for more than 30 years
Established in 1963.
Keithsburg Cafe
Elton
I hesitate to even post this not so hidden gem !! A little out of the way but worth the time and most likely wait. Keithsburg cafe is the quintessential small town cafe from its simple but delicious menu to it's unforgettable staff. A number of things stand out here #1 the truly southern appreciation of the American veteran, the minute you walk in you know that any Vet is welcome !! As a Navy vet myself I appreciated all of it and the free coffee for any vet was a nice surprise perk! #2 the small town feel from the people serving the food and even the people enjoying the food. The cozy seating make you appreciate everyone's hospitality. #3 the food: the omelettes are the perfect size and full of flavor, and you have to try the biscuits and gravy a southern treat....
The Whistle Stop Cafe
The movie is why we stopped. The food and service is why we will return.
We spent the day visiting Jarrell Plantation and Piedmont Wildlife Refuge. We were heading back for home when we noticed this super cute street just before the railroad tracks. We made the left turn onto the street and parked. I googled the 1st shop and screeched with excitement. We are where Fried Green Tomatoes was filmed. We walked to the end of the street and added our name to the waiting list. We wondered the fleatiques until we heard our name being yelled. We hurried back across the street and were seated. The entire staff was super friendly. The service was fast. We had Fried Green Tomatoes appetizer. Sorry, grandma, they tasted better than I remembered yours tasting. We had burgers and fries. And for dessert, buttermilk pie. I had never had this before, let alone heard of it. It is my absolutely favorite dessert. And I wish I asked to buy the whole pie. The food was fresh, delicious, and the portions big. I brought half my hamburger home, along with that slice of pie.
With all that said, I gave 4 stars instead of 5, because the place is very run down. It could really use some love. But don't let the looks fool you. The food is beyond 5 stars. I am so glad we stopped to enjoy this little piece of Hollywood.
Clary's Cafe
Brian
Wow...glad we discovered Clary's. Just spent the Memorial Day weekend in Savannah and had breakfast at Clary's all three days.
Everything was home cooked and amazing. So good in fact that my wife had the Greek omelette all 3 trips, calling it the best she's ever had.
I went for biscuits and gravy on day 1, pecan pancakes on day 2 and french toast on day 3....all were outstanding.
Don't be worried if there is a line to be seated, it's well worth the wait. Also, if you get the opportunity, sit at the bar. It was a lot of fun interacting with the staff behind the counter. Lots of great hospitality.
Cup and Saucer
Kelly
Upon entering, I didn't feel very welcomed.. no "Good Morning!" in that Southern drawl I've become accustomed to. But then I sat at a table and Courtney, aka Cornbread, was my waitress. She was sweet and pleasant and dished out all that Southern-ness I expected. This Jersey girl didn't know there was a difference in hash browns and home fries!, but Cornbread took the time to make it clear. The 1 egg omelet was HUGE! The french toast was sprinkled in cinnamon and powdered sugar. The HASH BROWNS were fried just right- I tend not to care for them.. they never seemed thoroughly cooked through. The prices are reasonable considering all the food you get! I'd try them again.
The Smith House
Sherry
One of my favorite family styled restaurants ever! I've been dining here over the course of the last 20 years. It's always tasty and fresh. Highly recommend.
Don
Stayed 3 nights - 2 in the main house and 1 in the lodge. The accommodations are very nice, especially the room with a king bed in the main house. The lodge is more modern and very comfortable. It's a quiet place. (You have to sign an agreement to be quiet.) Loved being able to walk to the town square with the shops and Gold Museum. The family-style fried chicken dinner in their restaurant was terrific, and our server was friendly.
Dolly's Farmhouse Cafe
Doug
To satisfy my hankering for something fried, I decided to go with the steak biscuit. This wasn't just a piece of cheap steak laid out on a biscuit, this was a crispy country fried piece of steak placed on a homemade, flaky and tender biscuit. I added those cheese grits to the side, as I just knew they would both hit the spot...and did they! One thing I loved about the cheese grits was they put shredded cheese all the way through and not just on the top like other places. This made for extra cheesy grits, which I was not complaining about! To wash it all down I got a sweet tea, because...duh! In true southern style, this was some of the best sweet tea I had in a long time!