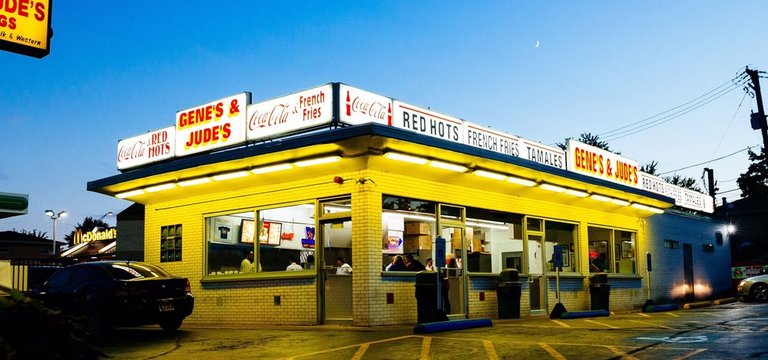 Gene's and Jude's Hot Dogs 708-452-7634
2720 N. River Road River Grove, Ill.
Located at 2720 River Road in River Grove, one of Chicago's closest western suburbs, hard by the Des Plaines River, north of...Grand Avenue, Gene & Jude's has been universally acclaimed as one of the finest hot dog stands in the country. This cash-only business opened at Polk and Western in Chicago in 1946, then moved to its current location in 1950.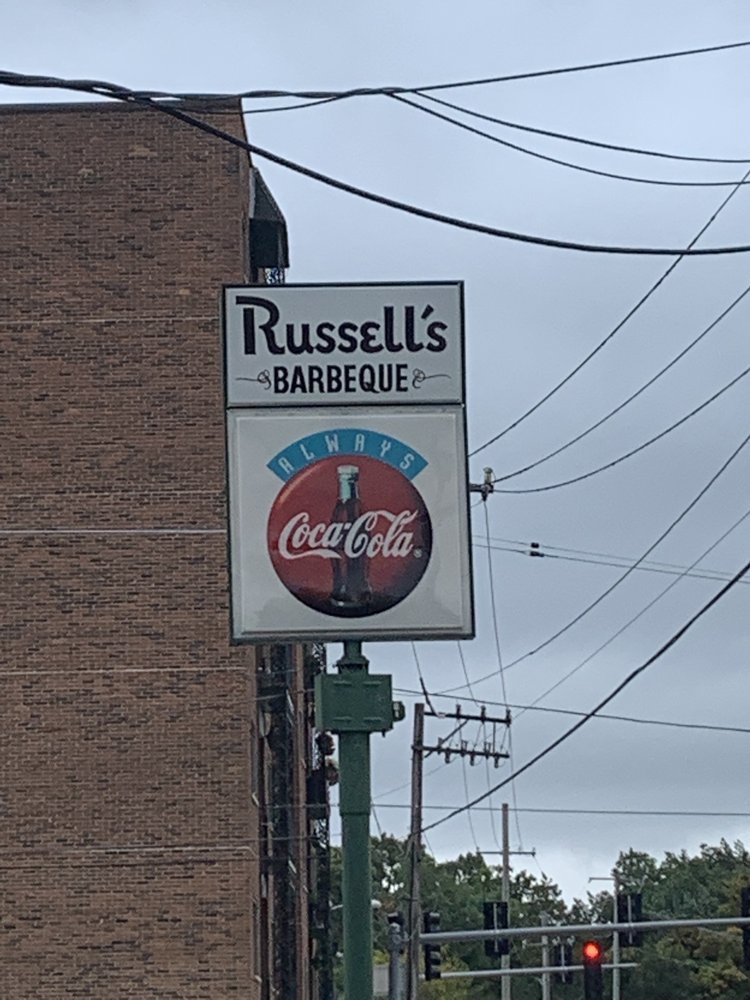 Russell's BBQ 708-453-7065
Ill. Rt 64 and North Ave. Elmwood Park, Illinois
Russell's Barbecue has been a family favorite since its opening in 1930. Located in the Chicago suburb of Elmwood Park, Russell's has a nostalgic charm and rich history that have united generations of families for over 85 years
Allen's Corner Diner 847-683-4637
44 West 483 Rt. 20 Hampshire, Illinois
Breakfast and lunch Hours are 6:00 am - 2:00 pm
Eggs benedict, pancakes, waffles, french toast, sandwiches, patty melt, burgers, salads, soups, chili. Kids menu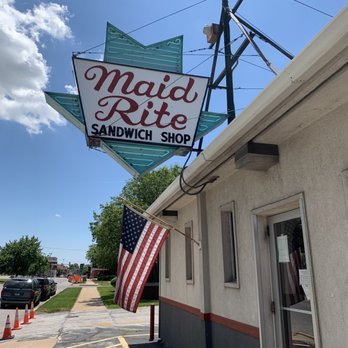 Maid Rite Sandwich Shop 217-222-7527
507 N 12th Street Quincy, Illinois
Maid Rite is a step back in time. I don't know how to say it any different so let me explain. The menus are on the old push in letter boards, you place your order where it is then written on a brown paper bag with your name, the order is shouted out so the cooks can hear, the total is tallied by hand.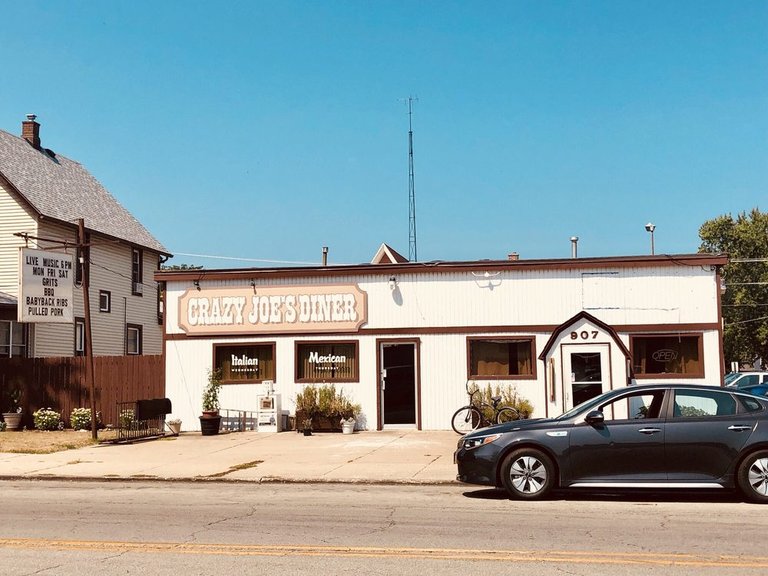 Crazy Joe's Diner 815-802-8055
907 Washington Ave Kankakee, Il.
If you visit Kankakee Illinois a must is Krazy Joes on Washington Ave. The heavy belly is a great breakfast option, they also have tasty burgers and fried chicken plus much more
Hours are 6am - 8pm Mon- Sat.
6 am - 2 pm Sunday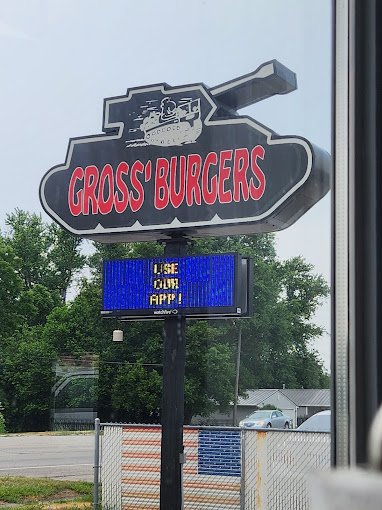 Gross's Burgers 217-442-8848
25 Henderson Street Tilton, Illinois
We grind our beef fresh daily. Our beef is over 90% lean. Our fries are cooked 100% vegetable oil with no trans fats. We shred our mozzarella on site daily. Our milkshakes are created with 6% buttercream soft serve.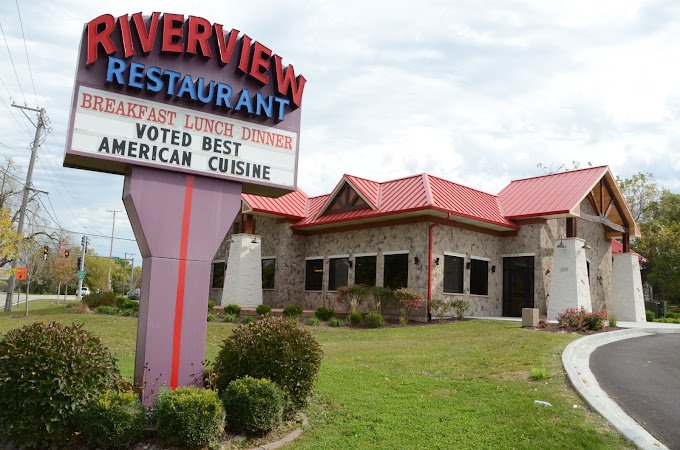 The Riverview Diner 630-859-3737
1420 SE River Road Montgomery, Illinois
Not really a diner but, sometimes referred that way. Located along the Fox River the views from the patio are impressive. Food is fresh hot and delicious - just the way a proper diner should be. I don't understand how diners are being replaced by other type of restaurants. Diners are the great American restaurant in my opinion. When you can, say NO to corporate fake food chains and say YES to local family owned diners.
Gene's and Jude's Hot Dogs
This a classic Chicago Dog experience. It's cheap, fast, and no-frills.
The Chicago Style dog is NOT what they serve here. This is a unique "snap dog" - supposedly, it's custom made for them by Vienna. The casing is a little stronger than the average hot dog, so it kind of snaps when you bite it.
Toppings are limited to: mustard, relish, onions & sort peppers. You'll get some fresh-cut fries with your order, and I recommend you let a few of them stay on the dog when you eat it. Delicious!
No ketchup is allowed in the place! You can find the story of why with a Google search.
As of 3/27/23 The stand up counters are open again! Feel free to stand by the windows and eat indoors instead of in your car!
A dog and fries is still under $5 and a pop will cost you a couple dollars more. Best lunch you can get for the price!
Russell's BBQ
I've been coming here since I was a little girl (our family would grab dinner after a day well spent at the Brookfield zoo). I love this place. It's nostalgic and non nonesense. Tons of seating even though some of the tables are on the tiny side. You order your food at a counter -- sometimes the line can be LONG so be prepared. After you pay and order, grab a seat! When your food is ready your number will be called. We've had food brought to us once but likely because there were few patrons at the time (we went right at 10am when they opened). You can't go wrong with any of the sides especially fries with loads of their homemade BBQ sauce and homemade slaw (it's vinegar based).
Allen's Corner Diner
Don't expect a lot of space to stretch your arms and you'll probably wait a bit to be seated. If these things don't bother you, then try out this restaurant. THE FOOD IS DELICIOUS!!!! There are roughly 6 workers and they bust their butts to provide excellent service. Lots of food for little price. Heads up, they only take cash but have an ATM machine inside for your convenience. They do not disappoint in service, welcoming atmosphere, and taste. Kudos to you Allen's Corner!
Maid Rite Sandwich Shop
All of the people working there when I went were old women, which added to the "old time-y feel"
Sandwiches come in 3 sizes, and with the option to add cheese, pickles, and onion. I got the medium size with all of the toppings and it was delicious but very messy, as most of the meat fell out of the sandwich.
Have a basic diner menu with other options as well, including a wide range of sides. I got sides of French fries and cauliflower, and, to my surprise, the cauliflower was fried! This makes me believe that all of the sides are fried, but I could be wrong.
Menu is on the wall above the counter where you order. Also have a lot of pie and milkshake options.
Crazy Joe's Diner
Food was great. Had ribs, baked potato, green beans& salad. Also ordered breakfast pancakes, eggs, corn beef hash and bacon. Was around $35 total and worth it. For sure going back.
Tanna
Best waffles I have ever had! We were out here for a baseball tournament and happened upon it. Doesn't look like much but it's one of those local hidden gems! Took a bit of time to get the order but it was well worth it!
The Riverview Diner
The food was great. I had Marquesas Islands fries and a side of chicken gravy for my own little disco fries, if you know what disco fries then you know, and a French Onion soap. The French onion soup is life. I had gone hiking and was cold from the day and this warm cheesy soup gave me life again.
Martin our server was fantastic, charming, fast and fun.
The ambiance is nice diner Americana. See pictures.