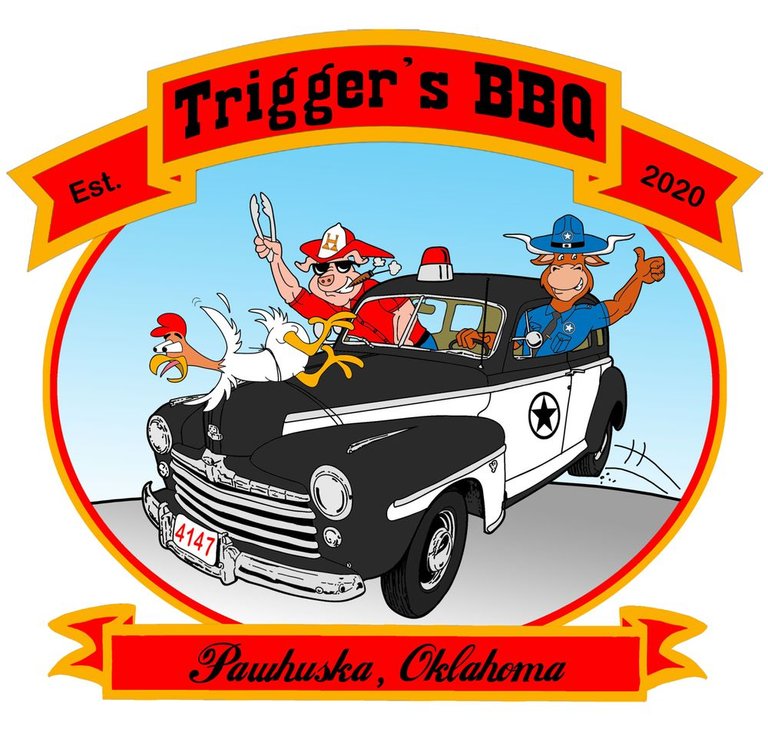 Triggers BBQ 918-287-2922
414 Kahikah Ave. Pawhuska, Oklahoma
- He swept through the competition circuit in the 1990's with his wife Trish going by the team name The Smokin' Triggers. · They are the only team to win the Jack Daniel's World Championship BBQ Invitational twice. Needless to say, they're kind of a big deal.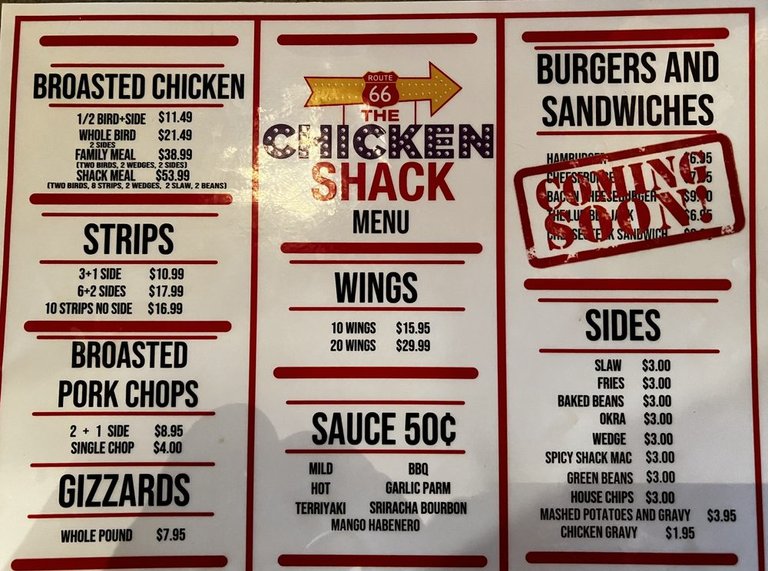 The Chicken Shack 405-277-5020
212 Highway 66 Arkadia Oklahoma
Chicken Shack Arcadia is a lively restaurant. We use the best ingredients and provide a great atmosphere.
Looking forward to hosting you soon!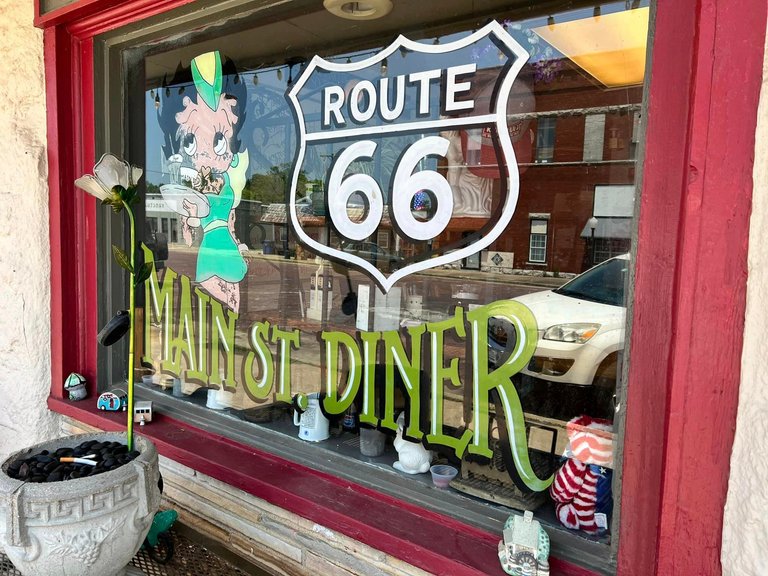 Pat's Main Street Diner 918-789-2001
251 West 6th St. Chelsea, Oklahoma
This little diner is on main street Chelsea, Oklahoma, Good, handmade, filling, comfort food. The owner, Pat, makes the pies fresh from scratch every morning. Try the Chicken Fried Steak and all the fixings, leave room for the "Million Dollar Pie", or get a piece to go. Friendly service, good cookin', just a few blocks west of Hwy/Route 66.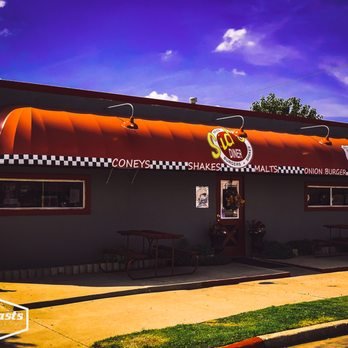 Sid's Diner 405-262-7757
300 South Choctaw Ave. El Reno, Oklahoma
Established in 1989.
This is a 3rd generation family owned business, we are proud to be in business for 50 yrs , and have been seen on man vs food, top 5 burgers in the USA, bizzar foods and much more, we would love the opportunity to serve you, we hope to see you. Hours are 7am- 8pm
Closed Sunday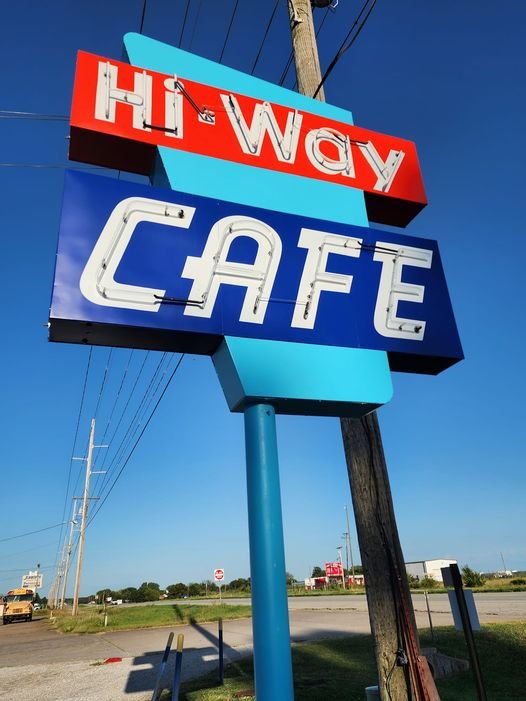 Hi-Way Cafe 918-256-5465
437918 US 60 Vinita, Oklahoma
Welcome to the Hi-Way Café! We are a family-friendly restaurant located on both the historic Route 66 and the Jefferson Highway in Vinita, Oklahoma. Our restaurant offers daily specials, great prices, and delicious food that you won't find anywhere else in northeastern Oklahoma. Come in and enjoy your favorite comfort foods while experiencing all the café has to offer.
Hours are 7am - 2 pm
Wed - Sat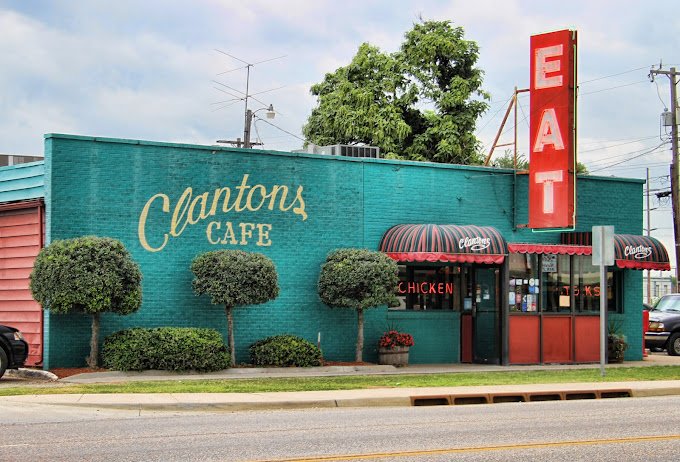 Clanton's Cafe 918-256-9053
319 Illinois Ave. Vinita, Oklahoma
Clanton's is featured in many tourism guides that are distributed across several countries. Clanton's Café' is synonymous with Route 66. Dinner at Clanton's Café is a necessary part of the Route 66 experience. It is a true slice of Americana. Clanton's would like to invite you to be a part of our history, come in make yourself at home and enjoy our small town hospitality. Don't forget to sign our guest book while you are here.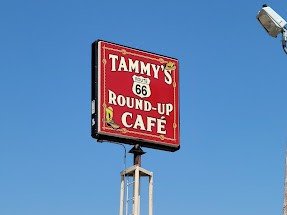 Tammy's Round Up Cafe 918-377-2230
1025 Broadway Ave. Davenport, Oklahoma
Tammy's Roundup Cafe is a Route 66 cafe specializing in made-from-scratch home cooking. Our customers come back again and again for our Chicken Fried Steak, Fried Catfish, Roast Beef, BBQ Brisket and of course our hand-pinched yeast rolls.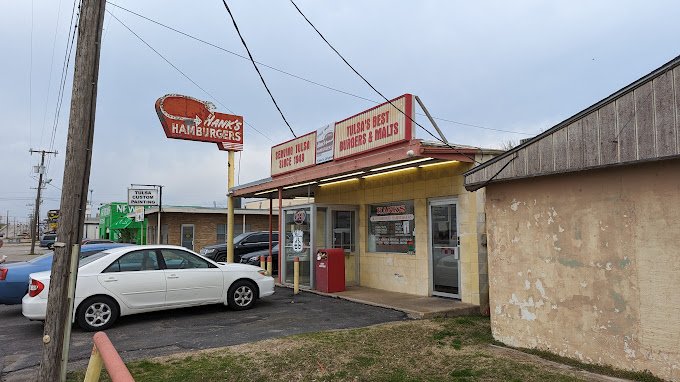 Hank's Hamburgers 918-832-1509
8933 East Admiral Tulsa, Oklahoma
Burgers be soooooooo Goooood! Hot and Fresh food , Great Service, people their are very friendly. they sell the old fashion peanut balls also. They also get alot of service.. Now , I know what my mom was meaning when she said look for the little old looking burger places for the REAL OLD FASHION BURGERS!!
Triggers BBQ
Clare
Went here Saturday - it was really good service was very nice !
The bbq brisket was delicious !
Sides were awesome !
I even got a loaf of the jalapeño bread to take home !
Ryan
Wish I could give 6 stars! The owner and staff were extremely nice. Little did we we know, the food would be an even better surprise! Perfect helpings of some of the best bbq I've ever had! I can't say enough about how impressed I was with the entire experience! Amazing!
The Chicken Shack
Jeff
Looking for some good fried chicken, we decided to venture out a bit east of Edmond to Arcadia and the Chicken Shack.
The ambience of the place is pretty cool, resembling that of a Texas BBQ joint or dance hall honestly. Old school wood burning stove in the dining room was nice since it was pretty cold outside when we visited on an early Wednesday evening. It is a good family friendly 'country' atmosphere.
There were 5 in our party and we were seated quickly and drink orders were taken. Our server was super nice and attentive.
Pat's Main Street Diner
Rusty
Delicious food, friendly service, good prices, the Main St. Diner ticks all the boxes for me! We had 1)- sausage and eggs, ham and eggs, and pork chop and eggs with biscuits & gravy. All excellent! We'll be be ordering all the same again shortly!
Sid's Diner
J.P.
A blast from the past that will kick you right in the tastebuds! If you looked up the classic American diner in the dictionary, you'd see a picture of Sid's staring at you right in the face. This is the textbook definition of a classic diner and it hits all the nostalgia points.
Not only do they serve up one of the best onion burgers in the great nation, but you're basically stepping through a Time Machine back to the past to experience a part of dining that has been lost. Sid's is worth it for the experience alone!
Hi-Way Cafe
Jim
Don't Miss This Little Gem!
Great little family Cafe. Hole in the wall. Small town, cozy feel. Delicious lunch on way to business location. Don't pass it by. Hamburger and fries were some of the best I've ever had, and I've had many.
Tammy's Round Up Cafe
I love this place in Davenport. Great food! My favorite is the meatloaf! Every time I go there, it's what I always get, and you get a lot for your money. The waitresses are great and pretty funny. I go there with my guy friend who is notorious to give them a hard time. Just kidding around, of course. They dish one back to him, too. Their portions are huge. I also recommend that you order their ribs. I think the portion is meant for two people!