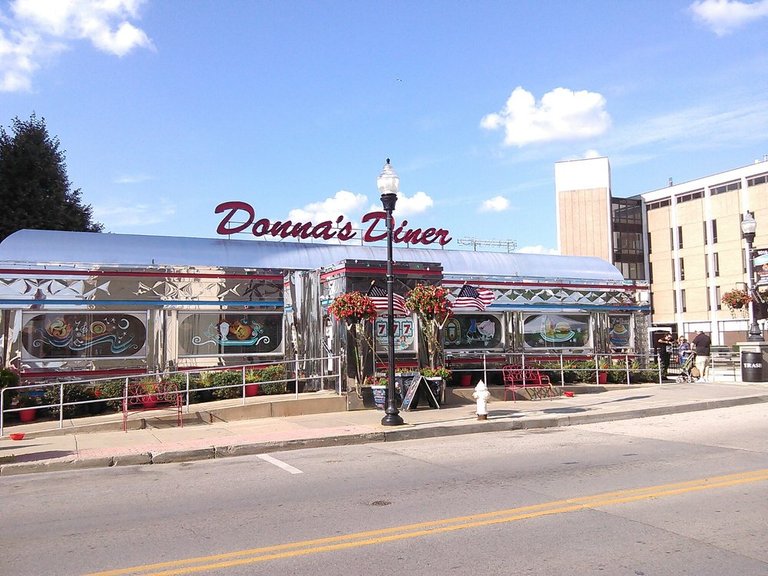 Donna's Diner 724-346-7373
10 West State Street Sharon Pa.
Donna's Diner serves up good old-fashioned 50's comfort food in a retro, stainless steel dining car.
Voted "best of the best" burgers; famous for hand-dipped shakes, blue plate specials, salads and
vegetarian options. Open 7a-8p-7days for breakfast, lunch and dinner.

Red rabbit Drive-In 717-834-4696
60 Benvenue Road Duncannon, Pa.
I have been going to the Red Warren
Rabbit for 30 years!
It is a blast from the past with the rabbits coming to your car to take your order and hooking the tray of food unto your window.
I get the same thing every time: Bunny Burger on a poppy seed roll, Ham BBQ, French fries with bunny dust and a chocolate malt.
Sometimes the wait is long but I find it fun to watch the people, check out the cars and enjoy the scenery.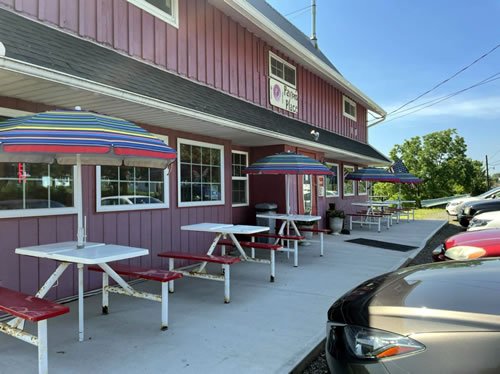 Payton's Place 570-477-5502
5217 Main Road Sweet Valley, Pa.
Appetizers
Soup and salads
Wings
Sandwiches
BBQ, burgers, and dogs
Kid's menu
Dinners
Drinks
Desserts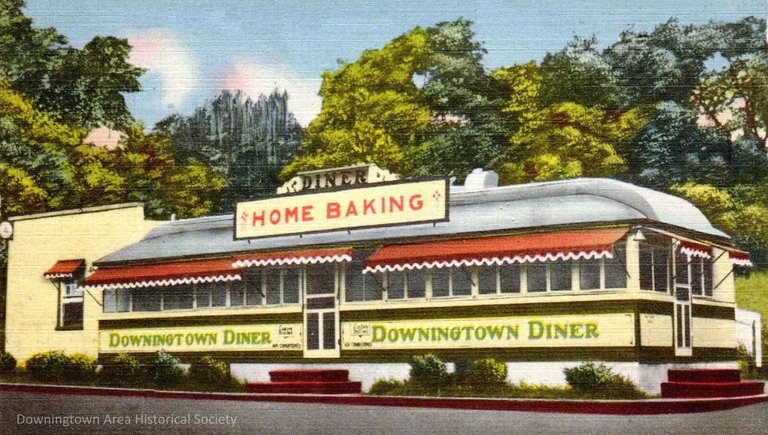 Dowingtown Diner 610-873-4545
81 West Lancaster Ave. Downingtown, Pa.
Burgers sandwiches, salads, omelets, pasta, typical American food menu. Open 24 hours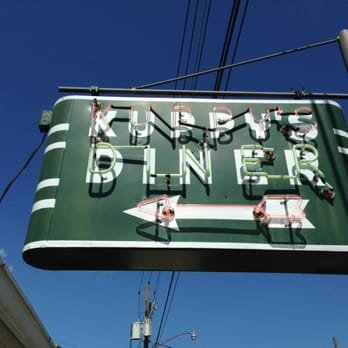 Kuppy's Diner 717-944-5122
12 Brown Street Middleton, Pa.
Kuppy's Diner, Middletown, Pa.
Same family owned and operated since 1933, Six Generations.
Was once 24/7, now open for breakfast only Tuesday-Sunday 0700-1200.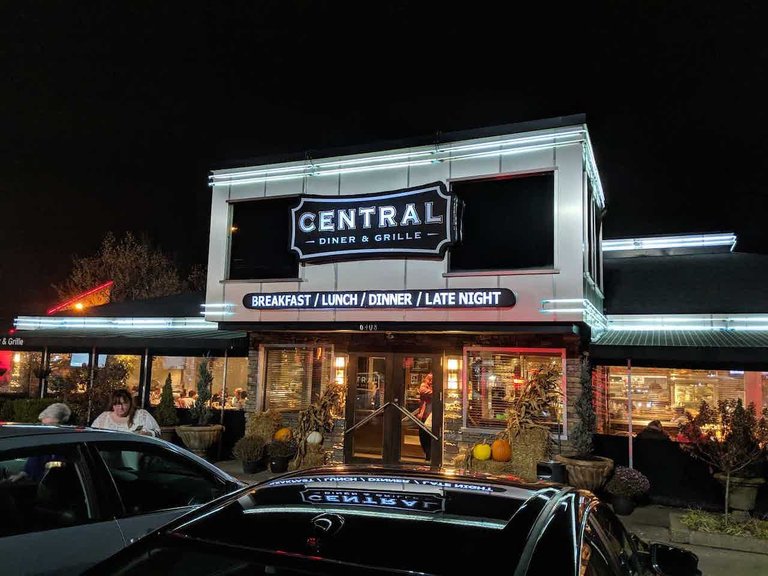 Central Diner and Grille 412-275-3243
6408 Stubenville Pike Robinson, Pa.
If you're in Pleasant Hills, PA (south of Pittsburgh) and in the mood for good family Greek eating. https://galisgyroandgrill.com/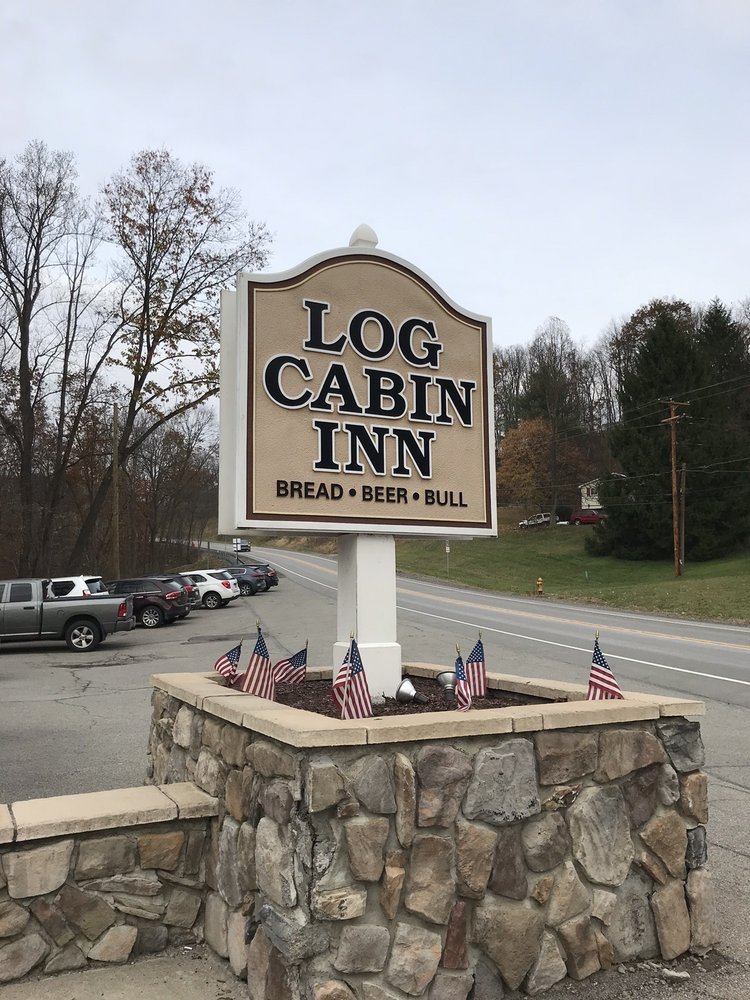 The Log Cabin Inn 724-452-4155
430 Perry Highway Harmony, Pa.
Great food, beer and most important the service.
Apple Chicken. Honey roasted chicken with apples, sauteed spinach and sliced almonds served over sweet potato puree with a hazelnut brown butter sauce. Oh my goodness,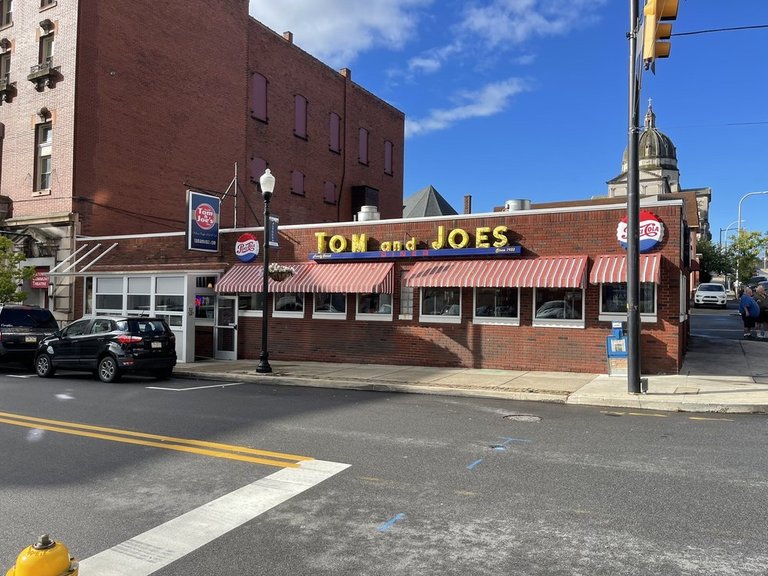 Tom & Joe's Diner 814-943-3423
1201 13th Ave. Altoona, Pa.
Great food, staff, and atmosphere.
Friendly, white staff, good food, and lots of craft beers on tap. Old time neighborhood bar in an interesting area
Tom and Joe's has been providing Altoona, PA an energetic and fun place for people to meet and eat where the employees provide the show. Owned and operated by the Batrus family for almost
85 years!!
Donna's Diner
Darlene
Donna's Diner serves up good old-fashioned 50's comfort food in a retro, stainless steel dining car.
Voted "best of the best" burgers; famous for hand-dipped shakes, blue plate specials, salads and
vegetarian options. Open 7a-8p-7days for breakfast, lunch and dinner.
Central Diner and Grille
Bob B.
Quickly seated. Place very clean. Server friendly. Order taken and food arrived hot. The food really tasty. Refills of drinks brought without us having to ask. Prices reasonable. We will return.
the0penr0ad via TripAdvisor
Wife and I came up here from Charleston, SC to see family and when we decided to go to Central Diner. We was in for a treat! Absolutely best French toast in the entire eastern side of the u.s! Can't wait to come back!
Payton's Place
Beverly
Great Little Restaurant
I love going to this restaurant to catch up with friends over breakfast. The food is never a disappointment. Service is great and food inexpensive. Love this place!
Downingtown Diner
Frank
Outstanding Dining Experience
We were exploring dining options on a Sunday afternoon and remembered a recommendation for Downingtown Diner. We were not disappointed. We had the Blob Burger and a Crabwich. Both were great. Atmosphere was good and parking easily available. We would dine there again in a minute.
Susan
Tasty local diner!
Always a nice time at the Dtown Diner with typical diner food- always prepared well and to be enjoyed in a friendly atmosphere.
Kuppy's Diner
Conan
If you're looking for a classic diner experience with delicious food and friendly service, Kuppy's Diner is the place for you. From the moment you walk in, you're greeted with a warm smile and a welcoming atmosphere.
The menu offers a wide variety of options, from breakfast classics like pancakes and eggs to hearty sandwiches. Everything is made fresh to order, and the portions are generous - you definitely won't leave hungry!
Log Cabin Inn
Caitie
My husband and I came here for an early dinner on a Saturday. We arrived just before 4pm and the parking lot was already packed!
We entered the restaurant expecting to wait awhile, however, the host said there was availability on the deck. It was a cool afternoon but we figured why not? It beats waiting. We walked past the bar (where most people were) and through the restaurant to the enclosed deck. They had large heaters scattered throughout which kept the space fairly warm. We had a little bit of a draft at our legs but overall it was comfortable.
Being familiar with this restaurant, we knew exactly how we would start our meal - New York Style Pretzels with hot fudge and honey mustard. If you get anything at all, get these. They are worth every penny (including the upcharged sauces) and are very filling.
Tom & Joe's
My husband and I decided to take a date day! We started off with breakfast. We have never been here before and everyone tells us about it. So we decided to go! Mannnnnnn soooooooo glad I did! What a old timing diner feel, which I love! The food was fantastic and our server was on point. The owners have a comedic side to them so if anyone can make you laugh at there establishment, then there my kinda people. Also the fact they have Joe Biden sticker there gave me even more of a reason to love this establishment. In all seriousness you NEED to have breakfast at Tom n Joes you won't be disappointed!