Great River Roadhouse 608-648-2045
9660 State Highway 35 Desoto, Wisconsin
Situated along the Mississippi river south of LaCrosse, Wi. on highway 35 is the Great River Roadhouse. You can get there by car, motorcycle or by boat. I went there with a friend about 20 years ago and at that time it was just a small 800 square ft, hole in the wall but, man did they have the best pizza I've ever tasted. Over time they kept expanding and now if you go there on a weekend you'll have a hard time finding a table.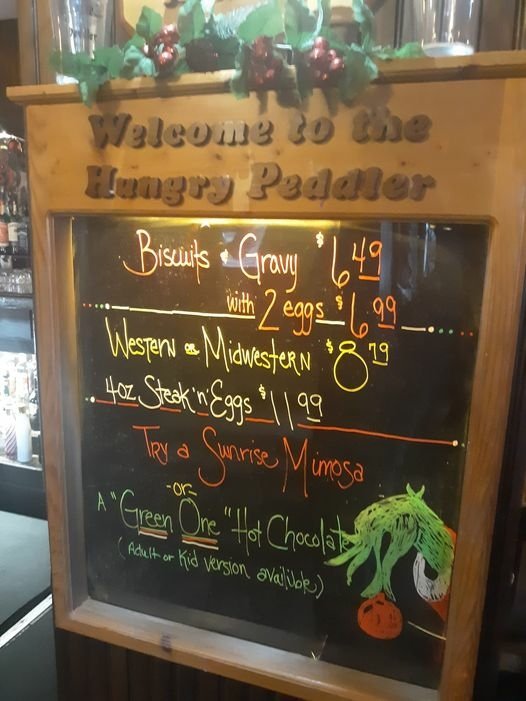 The Hungry Peddler 608-788-1895
3429 Morman Coulee Road Lacrosse, Wisconsin
The Hungry Peddler is in Lacrosse, Wisconsin at 3429 Mormon Coulee Road. I used to go there quite a bit when I lived in Lacrosse. It's the type of place you go when you're not in a big hurry because they don't rush things. Most of the time I went for breakfast so, I can't really comment on the dinner menu. If I'm not mistaken, you can also order a drink with dinner if you're in the mood.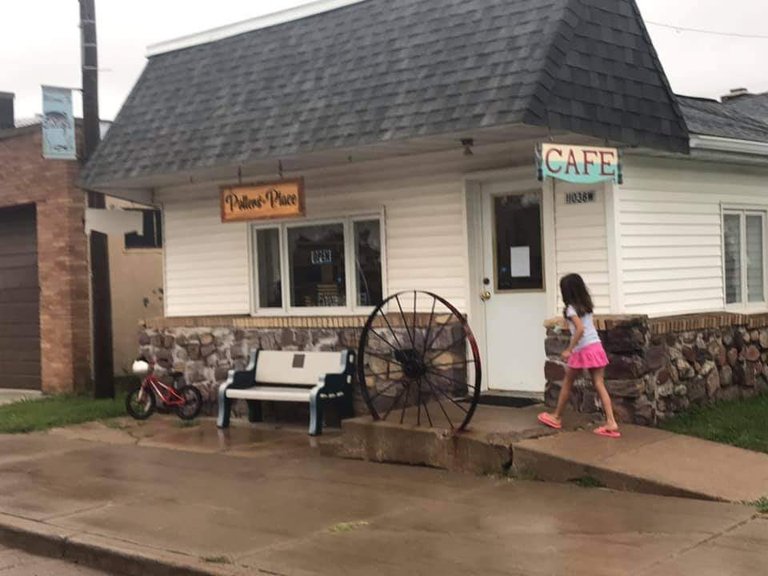 Potters Place Cafe 715-943-2321
11038 Wi. highway 48 Exeland, Wisconsin
Excellent portions at great prices.
Pancakes are the size of a plate.
They have an interesting way of serving biscuits and gravy. You can order with your choice of egg on top.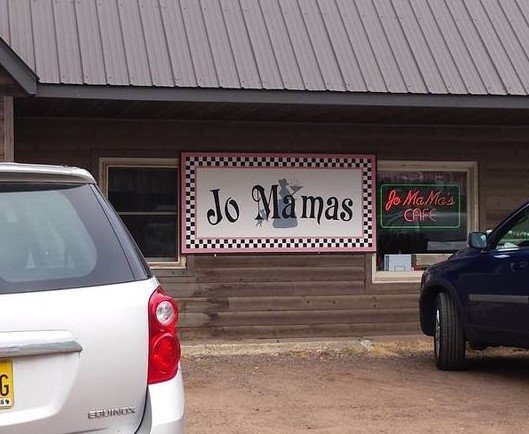 Jo Mamma's Cafe 715-635-2386
28407 Co. Road H Webster, Wisconsin
Dine-in, many vegetarian options accepts credit cards good for kids private lot parking, waiter service free wi-fi, homemade corned beef hash biscuits and gravy beer battered shrimp, pancakes family-friendly good for a quick meal breakfast
Open 7-2
Trempealeau Hotel and Restaurant 608-534-6898
11332 Main Street Trempealeau, Wisconsin
You could possibly plan part of your vacation around staying here. Located in the tiny town of Trempealeau, this place has it all. The food is slightly upscale so, plan on paying a bit more. Enjoy the live music outside during the summer months. Local area has campgrounds, hotels, shops and the annual Catfish Days.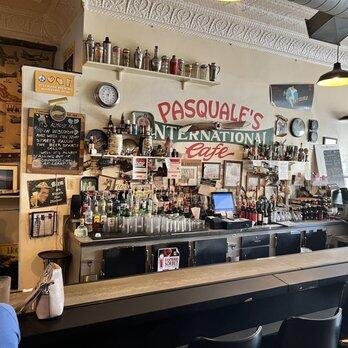 Pasquale's International Cafe 920-336-3330
305 Main Ave. De Pere, Wisconsin
Pasquale's international cafe in Depere, they have Italian, Chicago style and other amazing options for dinner, it's a fun little bar n grill that takes you back in time with the posters, painted walls, and other fun items from around ww2
Great River Roadhouse

nucci11
Fernandina Beach, Florida
Reviewed December 6, 2022 via mobile
Great Pizza and service!
After a long day of hunting we were hungry. We decided to try the pizza. We ordered two medium pizzas for the three of us. The pizza was amazing, the service was good, and although you may think the pizza is a little pricey….you get what you pay for! We took close to one whole pizza home with us, as we were all stuffed! Our favorite pizza was a cheese, sausage, and mushroom pizza which we added shrimp to. You won't be disappointed!
Nick
My husband and I traveled 30 miles down the Great River Road Highway 35 to dine here. Wow, so worth the trip! We drove through quaint small towns and enjoyed seeing barges along the way. When we arrived at the restaurant we were greeted by friendly staff and an unexpected variety of great food on the menu. We had pizza done to perfection and peel and eat shrimp. Top shelf food! The portions were generous also. I highly recommend The Great River Roadhouse, and take the long way there as the journey is as good as the destination.
The Hungry Peddler
We ordered off "The lighter side" section of the menu. Perfect portions and price for the kiddosKid-friendliness: My kids were warmly welcomed and felt comfortable being themselves in this resturant. Thank you for the excellent food and service!
Kent Wannebo
September 2022
Twas a bit of a wait...the place was buzzing with people this Sunday morning. But man, was it worth it. If I've said any place was my favorite breakfast spot in the past, I'm sorry, but it's only because I hadn't eaten here yet. I had my usual biscuits and gravy, two eggs sunny side up on top with coffee and a side of jalapeno bacon...but this order was anything but ordinary. It turned me into a breakfast guy is what it did. Man was it delicious. Someone in the kitchen knows what the heck they are doing (unlike the Packers did against the Vikings for their season opener this afternoon). My daughter had a standard helping of eggs, toast, hash browns, and sausage while her college roommate enjoyed a healthy order of stacked French toast. We will be back here again, regardless of the wait time. Well worth the wait. I'm telling ya, friend... wait for it. Just wait for it!!!
Potters Place Cafe
Paul
Nice clean Restaurant, good food very reasonably priced. Takes a little longer to get your food than some places but you don't mind because the atmosphere is so laid back and hometown. If you want to eat at a great place "Mayberry" this is it. Sit back and enjoy your breakfast.
Chris
Good service, great food. Hubby had a Philly, it was loaded with meat and toppings, I had a fish sandwich and it was huge, Chilli was delicious, and generous portions. Great prices. We're definitely going back ?
Jo Mamma's Cafe
Cory
This cafe is is a quaint cozy little restaurant where you can still find old fashioned country service with great actual homemade food.
Nick
The food was fantastic, waitstaff courteous & prompt & prices more then reasonable. Would definitely recommend it & will return again & again.
Trempealeau Hotel and Restaurant
Erica
Eclectic and Fun
We stopped here randomly to have a drink . This family-run place has a funky, fun vibe and serves food as well as having the bar. Live music appears to be a regular event. You can see the Mississippi River just down the street, and if you are lucky enough as we were, see a train or two pass by on the tracks along the banks.
Gary
Great food and live music
I really liked this place. Karen loved the walnut burger and I thought the cheeseburger was great. There is live entertainment some nights. Its a beautiful venue looking over the Mississippi River. Plus great local craft beers; what else would you want?
Pasquale's International Cafe
LOVED this place and their food!!! I loved it so much we ate it for dinner and had to go back the next day for lunch! The ribs are literally fall off the bone, I could pull the bone out and it was completely clean. Very juicy and tender ribs!
The pin is pasta with brainless Chicago style chili over pasta, shredded cheese, and the best tamale I've had in a long time! Sounds like a crazy dish but it all works together. This place is worth the drive no matter where you live.
what else would you want?